Posted by Andy Benoit

The
Seahawks
may come to rue this day. They could remember this as the day
Jason La Confora of NFL Network reported
that wide receiver
T.J. Houshmandzadeh
was on the trading block. Don't expect a trade to happen – Houshmandzadeh's $7 million salary is too hefty. (If teams were willing to shell out that kind of dough for a wideout at this point, Vincent Jackson wouldn't still be sitting at home.)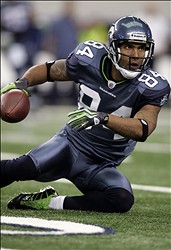 The problem is that Houshmandzadeh knows he's on the trade block. I've never met the man, but based on the countless interviews I've read, heard and seen, and based on all the memories I have of Houshmandzadeh griping for the ball and pouting like a petulant child, I feel comfortable saying he's the type of guy who will get his feelings hurt and hold a grudge. And, he's probably the type of guy who doesn't know how to hold a grudge quietly.
It's a little curious the Seahawks would be so eager to dump their No. 1 wideout.
Deion Branch
is little more than a slot receiver.
Deon Butler
has enticing raw talent, but in only his second season, he's yet to prove anything at the pro level.
Golden Tate
is the future, but that doesn't make him prepared for a leading role in the present.
And, finally,
Mike Williams
has enjoyed a resurgence (or, given that the former first-round pick has never actually achieved anything in the pros, perhaps it should be "Mike Williams has enjoyed a surge") but you don't sacrifice a reliable veteran receiver for a second-chance player like Williams. Plus, Williams, unlike Houshmandzadeh, isn't equipped to dominate underneath – which is critical in a West Coast offense.
Houshmandzadeh was somewhat of a disappointment last season (79 catches but only 911 yards and 3 touchdowns) but it's expected that he'll be a better fit in the new coaching staff's offense. In all likelihood, Houshmandzadeh will line up as the No. 1 target on Opening Day. He'll play with the usual chip on his shoulder, except this time, he might not be thinking about the other team.
For more NFL news, rumors and analysis, follow

@cbssportsnfl

on Twitter

and subscribe to our

RSS Feed

.