Posted by Andy Benoit

A couple of birds were killed with one stone Friday. One of the birds was Patrick Crayton's disenchantment in Dallas. The other bird was San Diego's dearth of wide receivers (a product, of course, of the Vincent Jackson holdout). The stone that killed these birds: a trade.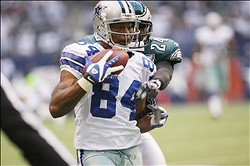 CBSSports.com's fantasy guru Dave Richard informed us that the Cowboys sent Crayton to San Diego for a mere seventh-round draft pick. The entire NFL knew the Cowboys were set to release the veteran wideout, which explains why Jerry Jones should be able to write off the Crayton trade as a donation.

This fills a significant need for the Chargers. Crayton is a precise route runner and one of the softest-handed interior receivers in the game. He's well-equipped to fill the underneath role in Norv Turner's downfield offense.

Crayton can operate in the slot receiver role vacated by versatile athlete Legedu Naanee (Naanee is now starting in Jackson's spot). Malcom Floyd remains the No. 1 receiver.

Crayton's arrival might spell the end for former Bill Josh Reed or disappointing former first-round draft pick Buster Davis. And, of course, many are speculating that this opens the door for a Vincent Jackson trade. As CBSSports.com's Clark Judge explains, Crayton's arrival takes some of the pressure off the Chargers on the Jackson front.

Finally, for what it's worth, in response to our article yesterday, this trade means the Cowboys did not stab Crayton in the bank after all. Looks like he'll still get his $2 million in 2010.

For more NFL news, rumors and analysis, follow @cbssportsnfl on Twitter and subscribe to our RSS Feed .