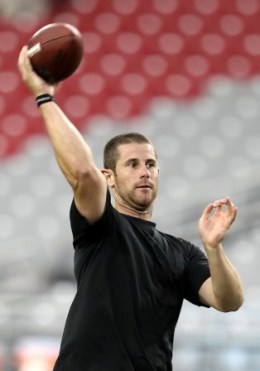 Posted by Josh Katzowitz
The biggest beneficiary of the entire
Matt Leinart
/Arizona saga is the quarterback who now is being looked upon as the
Cardinals
potential QB of the future. And he's a rookie who was undrafted out of BYU. So, don't worry if you hadn't heard of
Max Hall
before Leinart was released.
Not many people had.
"Coach (Tom) Landry used to say there were guys who had 'it,'" Danny White, a former Dallas
Cowboys
Pro Bowler (and Hall's uncle), told the
Arizona Republic
. "If you asked him what 'it' means, he'd say 'I don't know. Just "it."'
"You might sit back and watch Max play, and after his team wins you'd say, 'Well, the defense played great. The running game was going good. That's just luck.' You know what? It isn't luck.
"There are guys who other guys just feed off of. The way he played the other night (in the Cardinals' final preseason game) was prototypical Max Hall. All of a sudden, the whole team was playing better - the special teams, the defense, the offensive line. You can't explain that."
Coach Ken Whisenhunt said Hall was the best of the team's four quarterbacks in the preseason, and apparently he inspired more confidence in his teammates than
Leinart ever did.
Now, it stands to reason that starter
Derek Anderson
, who hasn't been very good since 2007, won't have a huge margin of error once the season begins. So tell me: why did all 31 other teams pass up the chance to draft Hall, a potential starter this season?
From the story:
"The draft isn't an exact science," White said. "It works for defensive linemen and receivers and linebackers.

"But so much of the quarterback position is intangibles - leadership, confidence, decision making – that you can't measure.

"A quarterback has a lot of options. Throw to the primary receiver. Check down. Throw it into a tight spot or throw it away. Move around to buy time. Run with it. And he has to factor in field position, the time, the score.

"Max factors those options so fast, as well as anybody I've seen. And he's right most of the time."
For more NFL news, rumors and analysis, follow @cbssportsnfl on Twitter and subscribe to our RSS Feed .