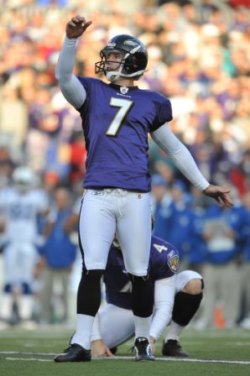 Posted by Josh Katzowitz
Billy Cundiff
couldn't have felt comfortable this offseason when the
Ravens
brought in former
Bengals
kicker Shayne Graham to compete with Cundiff for the place-kicking job.
Cundiff made 15 of 20 field goal attempts last year in Baltimore, but Graham entered the competition as the fourth most accurate kicker in NFL history. Sure, Graham had worn out his welcome in Cincinnati, but he traveled to Baltimore intent on reaffirming his kicking abilities.
Instead, Cundiff beat him out for the job. It's not that shocking if you watched Graham all of last year – which I did – and saw him miss high-pressure kicks, a deficiency that's tagged him the past few seasons.
Apparently, he didn't handle the high pressure of competing for his next job all that well either.
Or, maybe Cundiff simply outshined him. For Cundiff – who's on his fourth NFL team – a little stability went a long way.
"I definitely think it helps," Cundiff told the
Baltimore Sun.
"We were joking about it in training camp that this is the first training camp since 2005 I've been through with the team that I was with the previous year. So I've had five or six years here where I haven't had the ability to work with the same people over the course of the offseason and get all of those reps. But when I came in from the whole offseason programs and went into training camp and the preseason games, there was a comfort level there that I haven't experienced in a really long time."
Cundiff, for most of his career, has been the fill-in guy. Now, he's got the kicking job all to himself.
"The ultimate goal is never to be a fill-in," Cundiff said. "So for me, all of this hard work since essentially 2005 when I got injured, all of that was worth it. So when they said I earned it, I think of it as confirmation for all of that hard work."
For more NFL news, rumors and analysis, follow @cbssportsnfl on Twitter and subscribe to our RSS Feed .