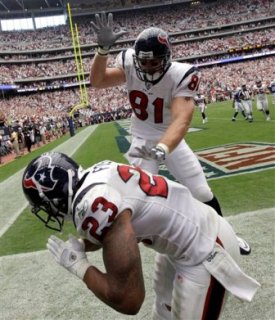 Posted by Josh Katzowitz
Three reasons why Houston opened its season with a 34-24 victory against the
Colts
.

1. Houston's running game:
Arian Foster
was a stud, rushing 33 times for a club-record 231 yards and three touchdowns. He'll make you forget the name
Steve Slaton
(six carries, 29 yards) pretty quickly. Perhaps the most impressive drive Houston ran was the first series of the second half, when they used up about 8 minutes of game clock, handing the ball to Foster. The Colts simply couldn't stop him. After his final TD of the game, with 1:56 to go, he slammed the ball to the turf. Then, he went to the bench and put on an oxygen mask. He had earned it.
2. The Colts wide receivers:
On the surface, their numbers look good.
Peyton Manning
completed a career-high 40 completions, and
Austin Collie
(10 catches, 131 yards),
Reggie Wayne
,
Dallas Clark
and
Pierre Garcon
recorded at least 75 receiving yards a piece. But Manning was undone early in the game by a bevy of Colts mistakes. His receivers ran the wrong routes, they dropped passes, they fumbled receptions. In the end, Houston made them pay.

3. Houston's early-game momentum:
The
Texans
jumped out to a 13-0 lead, and though the Colts answered with 10-straight points, the tone already had been set. This game was so, so important to the Texans, who entered the game 1-15 all time against the Colts. They had suffered through a few close games – a few games they should have won, actually – and they came in confident they weren't going to let another opportunity to pass them by. Turns out, they didn't.
For more NFL news, rumors and analysis, follow @cbssportsnfl on Twitter and subscribe to our RSS Feed .