Posted by Andy Benoit

Apparently, it's Dump-On-Alex-Barron Day today. So we'll tell you that, with three holding calls in the final 31 minutes against the Redskins Sunday Night (including the game-loser), the former Ram and now current Cowboy offensive tackles ranks second amongst all NFL players in holding penalties over the last five years.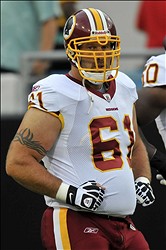 Mike Sando of ESPN.com was kind enough to publish the top five (numbers through last season):

1. Casey Rabach, 23

2. Mike Gandy, 20 (now out of the league)

3. Alex Barron, 19 (again, prior to last night)

4. Jammal Browns, 19

5t. Robert Gallery, 16 (impressive considering he's missed some games)

5t. Richie Incognito, 16 (imagine if we were counting personal fouls, huh?)

5t. Jeff Backus, 16

5t. Ben Hamilton, 16


For more NFL news, rumors and analysis, follow @cbssportsnfl on Twitter and subscribe to our RSS Feed .