Posted by Andy Benoit

A lot of people are wondering why Kevin Kolb and Stewart Bradley got back in for a few plays after suffering concussions. Fair question.
Pat Yasinkas points out that the Saints have a chance to start 2-0 in back-to-back seasons for the first time in franchise history. They'll have to beat the 49ers in order to do it.
The huge Week 1 television ratings pretty much confirm that anyone who doesn't watch the NFL is a loser.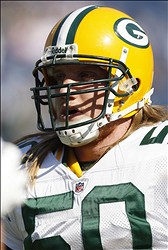 We'll join the Revis vs. Moss hype later this week, but here's a little taste to let you know that, even with the Jets still yet to play, it's already starting.
Roddy White caught a career-high 13 passes against the Steelers. Matt Ryan targeted him 23 times!
A.J. Hawk did not see the field Sunday against the Eagles because Green Bay spent the entire game in nickel defense. Brandon Chillar is the club's nickel linebacker.
Here's another reason to like star running back Ray Rice.
The Giants may want to consider lowering their ticket prices.
Marshall Yanda will start at right tackle for the Ravens Monday night. Jared Gaither and Oniel Cousins are both injured.
The Redskins might still be trying to figure out their offensive line personnel.
Vince Young says he "definitely wants the Heisman" and that he wouldn't turn it down. But Young also said that Reggie Bush won it "fair and square". (Of course, if Bush won it "fair and square", no one would be talking about Young getting the Heisman.)
The Browns started fullback Peyton Hillis ahead of Jerome Harrison at tailback against the Bucs. Hmmm…


For more NFL news, rumors and analysis, follow @cbssportsnfl on Twitter and subscribe to our RSS Feed .