Posted by Andy Benoit
With
Ryan Grant
out for the season (ankle), the hot rumor Wednesday is that the
Packers
will trade for disgruntled
Bills
running back
Marshawn Lynch
. There are no specific sources propagating this rumor – it's just coming about because this particular trade would make all the sense in the world.
Even if the Packers like what they have in
Brandon Jackson
(which, by the way, they don't – the guy is a former second-round pick who saw only scant playing time his first three seasons and, at one point, lost snaps to washed up midseason pickup Ahman Green), they still have no backup running back on the roster. Fullback
John Kuhn
is currently listed as the No. 2.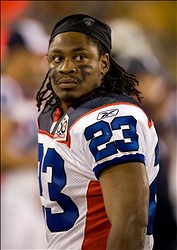 Jackson, thanks to improved blitz pickup skills and decent hands, is a quality third down option. But as a featured starter, he has not shown innate awareness or big-time endurance.
Lynch is not a resoundingly better option – he too lacks awareness, and there are major character issues. Still, he is a better option nonetheless. And, there is at least one prominent Packer who thinks trading for him is a good idea.
"Bring him on,"
Aaron Rodgers
said, without hesitation, according to CBS Rapid Reporter Greg Bedard
in the Milwaukee Journal Sentinel
, Asked about the character concerns with his former Cal teammate, Rodgers replied, "(Lynch is) a great player. And any character issues the team might see, I think in a situation like that, and I think you've seen that with other players across the league, when you give a guy a change of scenery and a guy like that who feels he might have something to prove, and surround him with two guys, (Desmond) Bishop and myself who played with him...I think that can only help him feel comfortable and see a lot of production."
Lynch will visit Green Bay this week…with the rest of his Bills teammates. Expect the rumors to continue to swirl. (If Lynch shows up at the Green Bay airport with multiple suitcases, you can bet the swirl will become a tornado).
Bills head coach Chan Gailey mentioned the Packers when asked about a trading one of his three running backs, but it wasn't in the context Packers fans (and perhaps Bills fans) would hope.
"Opinions vary about whether (three running backs are) too many or not," Gailey said. "Obviously in preseason we didn't have too many, and I know that Green Bay wishes they had one more than they had, so I know everybody's got opinions on what's right and we feel like having the three that we've got right now is a very good situation for us."
Don't read too much into this. The Bills offense has three quality running backs but approximately zero quality everything else's. Gailey and the front office know that trading Lynch makes perfect sense – expect them to at least field calls.
Michael Silver of Yahoo! Sports
says the Bills turned down another team's offer of a third-round pick and a player for Lynch prior to the draft. A third-rounder for Lynch now would be a fair price, though considering Green Bay's Super Bowl aspirations, GM Ted Thompson may want to offer as much as a second-rounder.
UPDATE:
CBSSports.com rapid reporter Greg Bedard
says that Lynch is not available for trade. The Bills are not even entertaining offers.
For more NFL news, rumors and analysis, follow

@cbssportsnfl

on Twitter and subscribe to our
RSS Feed
.