Posted by Andy Benoit
It usually takes a national holiday to inspire Americans to watch a
Lions
game. This week, however, a lot of eyes will be on Motown with football fans tuning in for
Michael Vick
's expected starting debut as the
Eagles
quarterback. Vick looked like the Vick of old in Philadelphia's second half loss to Green Bay. His electrifying athleticism is back. So how will Detroit defend him?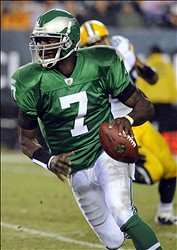 The short answer: with zone coverage. Zone defense, whether it's traditional Cover 2 with cornerbacks guarding the flats and safeties covering the deep middle, or Quarters with each of the four defensive backs taking ¼ of the field, is the obvious tactic against a mobile quarterback because it allows defenders to see all of the action in front of them. In man coverage, defenders must follow the receiver and turn their back to the ball. When teams see man coverage, they often design their routes simply to clear out defenders against the run (FYI, Sean Payton happens to be a genius with this tactic). You obviously can't leave that kind of open field for Vick.
Thus, look for Detroit to strictly play zone defense Sunday. (For what's it worth, you can tell what type of coverage defenders, especially linebackers, are playing by how they take their first step. A first step towards the line of scrimmage usually indicates man coverage; a first step backing away from the line of scrimmage indicates zone.)
Chances are, even without Vick, the Lions would have played a lot of zone against the Eagles anyway. Reason being, the Lions cornerbacks simply don't have the speed or agility to handle the quickness of
DeSean Jackson
and
Jeremy Maclin
. Because the way to beat Jackson is with physicality at the line of scrimmage, and because Lions corner
Chris Houston
is ineffective when he's not physical, don't be surprised if Houston and company try to get a jam on the Eagle receivers before dropping into their zone. This will not only disrupt the timing of the routes, but it will also disguise some of the defensive looks for Vick. You have to figure Vick will be a tad rusty in his reads, given that he hasn't had a team game-plan specifically against him in roughly three years.
Last week, once Vick entered the game, the
Packers
secondary employed some of the purest zone coverages known to football.
However, the Packers remained aggressive with their front seven blitz tactics. This flustered Philly's passing game at times, but whenever Vick was able to flee the pocket and get outside the widest defender, he found plenty of open space to eat up (hence his 103 yards rushing). The Lions can't afford to yield those kind of running lanes.
Don't be surprised if Detroit shadows Vick with a linebacker. Using a shadow linebacker can be expensive in coverage, but it's not like Vick scans the field with the quickness of a Manning or a Brees. A shadowing linebacker doesn't just provide a fulltime potential tackler against the quarterback, it also forces him to scramble outside, where the sideline can act as a 12th defender. When Vick was a Falcon, no team defended his running better than Bucs. The Bucs were a zone-based team (Tampa 2) that used their fast linebackers to shadow and force Vick outside.
The Lions used
Landon Johnson
and
Julian Peterson
as their nickel linebackers in Week 1; of the two, the versatile and athletic Peterson would make the best shadow option. In base packages, middle linebacker
DeAndre Levy
, who did not play in Week 1, is Detroit's best athlete, though coaches may want Levy focused on attacking downhill.
Keeping Vick's scrambling in check is a tall order. The Lions, with their iffy back seven personnel, will need a dominant performance from
Ndamukong Suh
and company just to have shot. At least the blueprint is clear.
For more NFL news, rumors and analysis, follow

@cbssportsnfl

on Twitter and subscribe to our
RSS Feed
.