Posted by Andy Benoit

Got a link for the Hot Routes? Hit us up on Twitter ( @CBSSportsNFL )
The Patriots extended their naming-rights deal with Gillette to 2031. This likely means another 20 years of seeing those razors painted near mid-field in New England.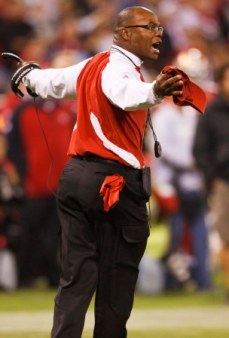 Anyone who saw Mike Singletary's testy interview with KPIX's Dennis O'Donnell last week will be disappointed to know that the 49ers and KPIX have jointly agreed to replace O'Donnell with Kim Coyle.
Seahawks linebacker Leroy Hill is out with a right leg injury that was originally called a calf problem but, according to Pete Carroll, is closer to the Achilles. (This likely means it is an Achilles injury since there isn't anything particularly close to the Achilles, except, of course, the calf.) Call this karmic justice – Hill probably should have been suspended for more than just Week 1 anyway.
Very few teams are scrutinized enough to have stories written about their kickers struggling in practice. Unfortunately for David Buehler (Buehler?...Buehler?....Buehler?), the Cowboys are one of those teams.
Besides acting like a punk about his DWI arrest and saying he doesn't understand why it's a black eye for the organization, there's another reason to find Braylon Edwards' behavior this week reproachable and inexcusable: Two years ago, Edwards was one of the men drinking earlier in the night with Donte Stallworth hours before Stallworth drove home and hit and killed Mario Reyes.
Derrick Mason is not speaking to the media for the rest of the season. This is big news for Baltimore journalists because Mason is one of the better interviews in the league. Mike Preston of the Baltimore Sun is holding out hope that the veteran wideout will still blow a fuse sometime in November, though.
More Ravens news, linebacker Tavares Gooden is out at least a couple of weeks with a shoulder injury.
Beanie Wells told reporters he will definitely play Sunday. Sounds like someone saw Tim Hightower's 80-yard touchdown run last week.
The Panthers are having a little trouble finding a quality No. 2 receiver. Fortunately, not having a No 2 receiver is not a big deal when you don't even have a No. 1 quarterback.
Safety Kareem Moore is finally back for the Redskins. Left tackle Trent Williams did not practice Wednesday due to a sprained knee, but he's expected to play Sunday. (We can assume that, even while sitting out, Williams still had a better practice than replacement Stephon Heyer.)
Chris Johnson responded to Hines Ward's assertion that he "gave up" after being hit so many times by the Steelers last Sunday.


For more NFL news, rumors and analysis, follow @cbssportsnfl on Twitter and subscribe to our RSS Feed .