Posted by Andy Benoit
As Week 3 inter-conference matchups go, they don't get much bigger than Sunday's
Cowboys
@
Texans
showdown (insert everything's big in Texas joke here) At least, not from the Cowboys' side of things. Win and they're right in thick of the NFC East. Lose and they're 0-3, facing a week of intense Wade Phillips hot seat chatter.
Offensively, the Cowboys have to get the wheels turning in their ground game (139 yards on 42 carries so far doesn't cut it). Their passing game is too talented to contain if
Tony Romo
has the benefit of play-action.
But the key to beating Houston is generating big plays defensively. The Texans have a prolific offense…sort of. It's an offense that has ranked in the top five in yards each of the past two seasons, but it's also an offense that ranked 10th in scoring last season and 17th in scoring in 2008. In other words, they don't always capitalize on their firepower. A big reason is, as history shows, this team can be forced into making mistakes.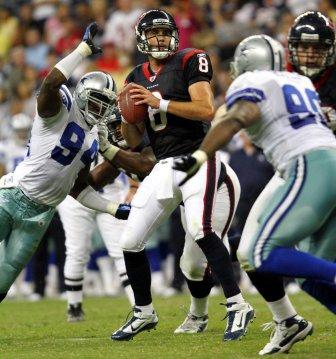 The best way to force offensive mistakes is to generate pressure on the quarterback. It doesn't have to be sacks – just pressure. (For what it's worth, the
Jets
understand this concept better than any team in football.)
Karma seems to be on Dallas's side this week. On Tuesday, Texans left tackle
Duane Brown
was suspended four games for violating the league's policy on performance enhancing substances. Thus, fifth-year tackle
Rashad Butler
will get his first career start Sunday.
The Cowboys are salivating at the thought of
DeMarcus Ware
facing Butler one-on-one. No team creates favorable pass-rushing matchups for its top star as effectively as the Cowboys do for Ware. They always try to align him on the open side of the offensive formation (i.e. away from the tight end). You may notice that Ware often gets in his stance at the very last second before the snap. This is to prevent teams from motioning a tight end to his side.
This formula works well because a.) Ware is a beast to block one-on-one and b.) Dallas' other outside linebacker,
Anthony Spencer
, is one of the best high-traffic players in the game. That is to say, Spencer sheds blocks and maneuvers through bodies with great aplomb. His skill set is ideal for combating offensive tackles and tight ends simultaneously.
Of course, the offense ultimately holds the power when it comes to matchups on the outside edges of the line of scrimmage. If the Texans want to prevent a Ware-Butler one-on-one situation, they can. They can always keep a running back in to chip. They can always put a tight end in motion to shadow Ware (the tight end would be a de facto sixth offensive lineman in this case).
The problem, however, is this goes against the mantra of Gary Kubiak's offense. Houston relies on its tight ends, particularly budding star
Owen Daniels
, as extra receivers in the passing game. Sure,
Kevin Walter
can fill the inside receiving void if Daniels stays in to block (in which case
Jacoby Jones
would play the outside). But if the Texans are willing to sacrifice the threat of Daniels in the passing game, they might as well go with the bigger, more physical
Joel Dreessen
as their tight end. But if they do that, they're banking on Dreessen having a bang-up game as a blocking tight end. Dreessen is decent in this capacity but not spectacular.
Another solution could be to spread the Cowboys out and go with a quick-striking passing attack. This would keep the tight ends involved through the air and minimize the burden on Rashad Butler (instead of blocking Ware for three seconds on a play, Butler would only have to block him for one or two). Also, this could test the questionable depth of Dallas' secondary. Plus, it would make it nearly impossible for the Cowboys to double-team
Andre Johnson
, as the safety over the top would be too far away from the action to be relevant.
Given the impact that the pas-rush will have in this game – remember, Dallas' offensive line is struggling and will have to face
Mario Williams
– the winning team will probably be the one that can build a big enough lead to dictate tempo.
For more NFL news, rumors and analysis, follow

@cbssportsnfl

on Twitter

and subscribe to our

RSS Feed

.