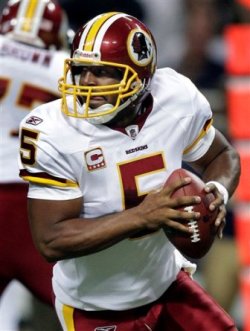 Posted by Josh Katzowitz
Perhaps the single-biggest storyline for this week's slate of games is what will happen when former
Eagles
/current
Redskins
QB
Donovan McNabb
returns to Philadelphia.
Will fans cheer him? Will fans boo him? Will he and Eagles coach Andy Reid get into a fistfight at the 50-yard line?
Today, the Eagles beat writers spoke to McNabb on the weekly opponent player's conference call, and he admitted that when Philadelphia traded him away, he wasn't real pleased with Reid.
"We're good friends," McNabb said in quotes captured by
CSNPhilly.com.
"Things happen. It's unfortunate. Was I upset at the time? Absolutely. But I've moved on, I've learned to move on and focus on the job ahead."
On the issue of being cheered or booed (though he'll probably hear some of both):
"Hoping maybe some cheers," he said. "In reality, you have to remember this is a big rivalry."
McNabb also said he's never been in the visitor's locker room at Lincoln Financial Field.
"Hopefully I walk out of the right tunnel," McNabb joked.
Reid also had an interesting comment in the
Philadelphia Daily News:
This game is "not about Donovan ... Or Andy Reid or Michael Vick or anyone else," Reid told a large contingent of media at his Wednesday news conference.

Reid also said he would be more worried about McNabb's familiarity with the Eagles' offense if McNabb was a middle linebacker.

Asked if he would have still traded McNabb had he known he would end up changing quarterbacks two weeks into the season, Reid offered this:

"Since I didn't know all that, and I did trade Donovan, I'm not real worried about that ... That's a fully loaded question and I'm not Plato," Reid said.

Socrates perhaps, but certainly not Plato.
For more NFL news, rumors and analysis, follow @cbssportsnfl on Twitter and subscribe to our RSS Feed .