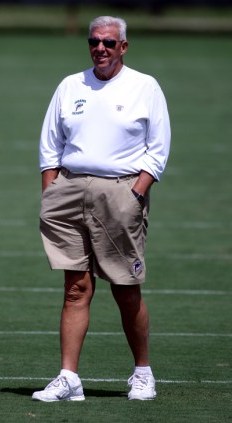 Posted by Josh Katzowitz
Bill Parcells talked to reporters today on a conference call to discuss his impending shrineship (is that even a word?) into the
Giants
Ring of Honor on Sunday. Parcells, who conceded control of the
Dolphins
to Jeff Ireland earlier this year, was asked about what he's going to do now (or at least, what's he going to do after this weekend is over).
"Well, that is a good question," Parcells told the media. "I am not a sit-around-the-fireplace guy. I don't know. I am not certain about it. We will see what happens when the time comes. I know I want to do something even if it is not day to day or something like that. I know I want to do something. I don't like sitting around. I like to get up and go do something. We will figure it out when the time comes."
So, at the very least, I've learned he wants to "do something." But what if he wants to do something like finish his breakup with Miami and still get all the money in his contract? Can he do that?
Why yes, he can.
From the blog of
ESPN.com's Tim Graham:

Parcells' comments are ominous given his history as a restless football soul and the fact he can walk away from his Dolphins contract with full pay whenever the mood strikes him.

His contract with the Dolphins runs through 2011. When new owner Stephen Ross bought the team from Wayne Huizenga, Parcells negotiated a clause that will allow him to leave at any time, collect every last cent and not be prevented from working for another team.
With all that money, if Parcells decides to cut bait and run, he can build a pretty nice fireplace that he wouldn't want to sit around.
For more NFL news, rumors and analysis, follow @cbssportsnfl on Twitter and subscribe to our RSS Feed .