Posted by Andy Benoit
Multiple sources are reporting that the New England
Patriots
and Minnesota
Vikings
are discussing a trade involving
Randy Moss
. A deal likely hinges on whether Moss and his original team can come to terms on a long-term contract. Moss, as he himself has reminded everyone, is in the final year of his current deal.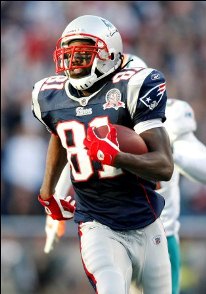 Pro Football Talk
, among other media outlets, has said that Moss and the Vikings have not yet begun negotiations, and that the Patriots have not granted permission for the receiver to discuss contract terms with other teams.
Though not preferable, it's possible Moss could get dealt without a new contract. There are whispers that the Patriots would receive a third-round pick in the trade.
Apparently, this issue has been brewing for weeks. Karen Guregian of the
Boston Herald reports
that Moss' agent, Joel Segal, called Bill Belichick and requested a trade after Week 1.
Comcast Sports' Gary Tanguay
says that Moss, who had zero catches and was targeted just once in New England's win over Miami Monday night, "showed up unhappy" on Tuesday and "had words" with Belichick. (
Adam Schefter of ESPN
, however, says Moss and Belichick did not speak Tuesday.)
If this trade does indeed happen, it would make sense from the Vikings side and be a shocker from the Patriots side. The Vikings need a deep threat to replace the injured
Sidney Rice
. (Even if Rice returns in November from his hip injury, it's doubtful he'll be his usual self.) And with
Brett Favre
– who, by the way, has wanted to play with Moss for years – being in his last season (grain of salt), it's now or never for the club.
The Patriots seem set to move on without Moss in 2011, but that doesn't mean the 33-year-old is not an integral part of their Super Bowl caliber offense this season. Take Moss out of the lineup and the Pats are faced with rewriting several pages of their playbook.
It would be very in character for New England to make this trade. They once dealt
Deion Branch
despite not having any other quality receivers on the roster. And, last season, despite having a porous defense, they shipped Hall of Fame defensive end
Richard Seymour
to Oakland in exchange for draft picks.
The Patriots are saying there is no trade. Given their history of subterfuge, that might be the clearest sign that something could be going down.
Even if a trade does not happen, the story of the rumor will long be remembered. It began as an accidental internet spark and, in classic Twitter fashion, turned into a raging conflagration Tuesday night.
Bill Simmons accidentally tweeted that there were rumors swirling that Randy Moss was going to be traded to the Vikings. He meant to send it as a direct message (DM).
Not long after that,
Jay Glazer tweeted
, "hey bill simmons @sportsguy33, damn you! Hahaha. I've been sitting on it allllll day. Was hoping to come outta left field and then u let slip. Classic! Good job"
Glazer also tweeted, "Yes, vikes and pats have been working on trade that sends randy moss to vikes and r very (close) but can't be done until vikes and moss work out new contract, (which) they r working on."
For more NFL news, rumors and analysis, follow

@cbssportsnfl

on Twitter and subscribe to our
RSS Feed
.