Posted by Andy Benoit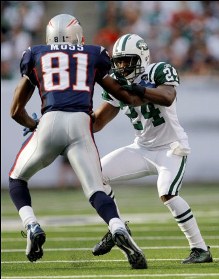 Darrell Revis is back to ripping Randy Moss. After calling Moss a slouch during the offseason, Revis was critical on Wednesday of Moss' Week 2 performance against the Jets. He told ESPNNewYork.com, "In the second half, you could tell he was putting his foot on the brakes. I mean, everybody knows that's Randy. Sometimes he plays 100 percent, sometimes he doesn't."

What's interesting is that Revis witnessed the second half of that game the same way you and I did: on television. He was in the locker room getting his hamstring worked on. You know, the hamstring he pulled when Moss hauled in that spectacular one-handed touchdown catch?

We won't harp on Revis here, though (well, not any further than that last jab, anyway). What he's saying is, all in all, correct. Moss' effort has been up and down throughout his career. And in the second half of that Week 2 showdown, Revis' teammate, Antonio Cromartie, had his way with the lanky wideout.

"You can tell, you can see the effort," Revis said. "Playing football, you can see the body language and effort of people. If a guy's going hard or a guy is hesitant ... that's the way football is, the truth comes out. You could see it in that game."

Revis' frank assessment (and can you believe we're getting a frank assessment from a member of the New York Jets?!) raises a great philosophical question: if a cornerback talks trash about an opponent's brand new wide receiver, and in doing so refers to a game when said receiver was with a different team, does it constitute bulletin board material?

For more NFL news, rumors and analysis, follow @cbssportsnfl on Twitter and subscribe to our RSS Feed .