Posted by Andy Benoit

Want to know why the Seahawks were willing to dump a possession receiver capable of catching 100 balls even if dumping him meant eating some $6 million of sunk costs? Because of nonsense like this: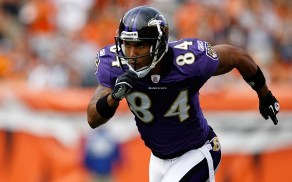 "Q [Anquan Boldin] is going to be happy. That's just the reality of it," T.J. Houshmandzadeh told the Baltimore Sun. "Q and [tight end Todd] Heap, they're going to get their balls. They brought Q in, they gave up draft picks and gave him a nice contract. They're going to find ways to get him the ball. I can appreciate that because I thought that's what I was getting [in Seattle]. I wish it was me. But it's not."

To his credit, Houshmandzadeh is honest. And he served as the Union Rep for the Bengals, so you know teammates in the past have respected him. But, the reality is, Houshmandzadeh also cares deeply about his numbers. He wants to be The Guy. Or, at least "A Major Guy", so to speak. Often, this becomes a distraction.

Houshmandzadeh has caught just five passes in his first four games as a Raven. But one of those passes was the winning touchdown against the Steelers. Which brings us to the next point: the Ravens are winning. So even if he's understandably displeased with his ancillary role, what good does it do right now to say things like, "For me, I knew coming in what I was getting myself into. But I believe in myself. So the belief in myself said once they see me, things will change. We'll see if that holds to be true"?

The man understands his own patterns of behavior, but at 33, he's not willing to change them.

"The bad part of my personality is I tend to not to say it but my body language says that," Houshmandzadeh said. "That's bad but that's who I am."

That's bad but that's who I am? How about, That's bad, which is why I'm going to work on that?

Or, maybe Housh would rather have to continue starting over in new places.

For more NFL news, rumors and analysis, follow @cbssportsnfl on Twitter and subscribe to our RSS Feed .