Posted by Andy Benoit

Showtime's
Inside the NFL
has a fascinating interview with disgraced ex-Raiders quarterback JaMarcus Russell Wednesday night (9:00 ET). Russell, who is trying to get back into the NFL, gave the show an exclusive look at his training regimen (and no, we're not referring to the part of the show where he's sitting down and chatting with Josina Anderson – we're talking about footage of Ru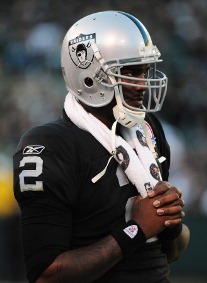 ssell actually working out).
The interview could be great for unintended comedy. Take a look at this exchange:
ANDERSON: Where from your perspective did things go wrong?

RUSSELL: Now looking back on it, I could have went about certain things different.

ANDERSON: Like?

RUSSELL: I am not sure. I don't know where they went wrong. But the things that did go wrong I take full blame for whatever was my fault, and the things that did happen. Being drafted No. 1 there are so much that they want you to do at a snap of a finger. It didn't happen that way which brings us to today
.
There is so much that they want you to do (including earning at least a snippet of $32 million guaranteed money). There is also so much that they DON'T want you to do. Such as: DON'T eat that! DON'T drink that! DON'T fall asleep. DON'T arrive late. DON'T throw the ball there. And, of course, No, no, DON'T throw the ball there, either!
Russell told Anderson he is not willing to play in the UFL or change positions. At this point, he's just trying to prove to 32 teams (though he says only 31 teams, which we're guessing means he has no interest in ever returning to the
Raiders
), that he's worth taking a chance on.
For video excerpts of Russell talking about being benched,
click here
. For video excerpt of Russell's mentor, John Lucas, talking about the quarterback,
click here
.
For more NFL news, rumors and analysis, follow

@cbssportsnfl

on Twitter and subscribe to our
RSS Feed