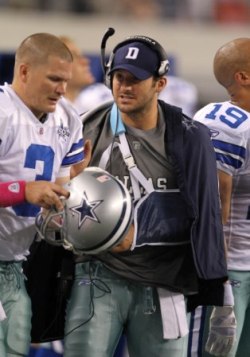 Posted by Josh Katzowitz
It's hard to overstate just how devastating the
Tony Romo
broken clavicle will be for the
Cowboys
. It seems like everybody this morning is calling the Cowboys a dead team walking – and Wade Phillips a virtual ghost in a Dallas polo – and they're exactly right. Forget the playoffs. Without Romo, the hope is gone.
Romo isn't the best of the best, but he's a pretty good starting quarterback (completing 69.5 percent of his passes this year for 11 touchdowns and seven interceptions; he also is ranked sixth in the NFL with a QB rating of 94.9).
Now, the Cowboys have to count on
Jon Kitna
– a serviceable backup who isn't going to win you many games as a starter. The last time Kitna won more games than he lost as a starter was with Cincinnati in 2004. He went 2-1 that season, but since then, he's 10-26. Nice guy, but not a guy who will turn around your season and lead you to the playoffs.
Clearly, the news of the potential season-ending injury was disappointing to Romo.
"I tried lifting my shoulder, it hurt like heck," Romo said after the game, via the
New York Post.
"I thought it was going to be a good sprain. I was upset, disappointed, I was frustrated. I was having a hard time breathing. You work very hard to play in these games."
For his part,
Michael Boley
– the
Giants
LB who knocked Romo out of the game and flushed the Cowboys season down the toilet – wasn't necessarily delighted with the final result of the play.
"When he hit the ground I heard he let out a little scream so I kind of knew something was up," Boley told reporters. "I didn't think he was laid out, I thought it was just a normal hit. After I got out and started running I looked back after the play was over, (and) he was still down."
"It was just a play we had drawn up. The guard didn't see me, he blocked down on the tackle and both backs went to the other side so I came scot-free. Any time somebody gets hurt, we're all a fraternity. You hate to see people get hurt. It's something you hate to see. I wish him the best."
And as for Kitna, the man who once guaranteed the
Lions
would win 10 games (hint: they didn't)?
"I am prepared to lead this football team for however many weeks that is," Kitna said, via the
Cowboys official site.
"It is not something that I am scared of or anything like that. I wish that this opportunity didn't come because I think it's bad for Tony (Romo), it's bad for this football team for that to happen. But, it's here and I have confidence in myself and confidence in my teammates that we'll get some things ironed out. We'll start seeing things on the same wavelength and we will be fine moving forward."
If by fine, he means a disaster of a season that ends with the firing of the head coach, then yeah, everything will be fine.
For more NFL news, rumors and analysis, follow @cbssportsnfl on Twitter and subscribe to our RSS Feed .