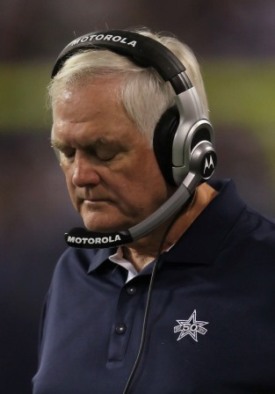 Posted by Josh Katzowitz
Once again, the
Cowboys
lost a game. Once again, Dallas owner Jerry Jones was asked about coach Wade Phillips' job security. Once again, Jones refused to offer up Phillips to the sacrificial gods.
The latest give-and-take occurred about an hour after the Cowboys finished up their 41-35 home loss to the
Giants
on Monday, and Jones was asked about his confidence level that Phillips could turn around a 1-5 Dallas squad.
"I don't think about doing anything differently having only played six ball games, period. I don't," Jones said, via
ESPN Dallas.
"I just don't want to answer the question, and any way I answer the question can be termed negative and it shouldn't be."
As for a coaching change?
"We've got a big challenge here and I don't need to be mixing and matching at this stage, I just don't," Jones said. "We got a long way to go."
It's difficult to see, though, how this ends well for Phillips. The Cowboys were thought to be a Super Bowl contender – stated very publically by Jones – and so far, they've been nothing short of brutal.
Besides, if Jones were to fire Phillips mid-season, who would he hire to fill that spot? Offensive coordinator Jason Garrett? Don't think so. Secondary coach Dave Campo? We've seen how that play ends before.
So, what to do? Well, Jones probably won't say anything bad about Phillips until he fires him after the season is complete. Unless the Cowboys are, say, 1-12 in a few weeks. Then, all bets are off, and maybe, taking a page from Ted Turner, Jones could coach the team himself.
For more NFL news, rumors and analysis, follow @cbssportsnfl on Twitter and subscribe to our RSS Feed .