Posted by Andy Benoit

A special thank you to Ron Jaworski for a.) being boldly honest and b.) basically writing an entire post for me. Jaws was recently on Phoenix's KTAR radio. He was asked about Cardinals undrafted rookie quarterback Max Hall. Here he goes:

"The one thing we've heard about Max -- the moxie, the leadership, all that -- those are all wonderful attributes for a qu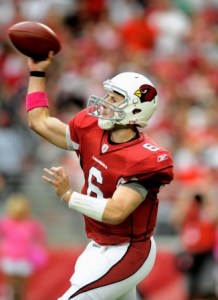 arterback. But the attributes you have to be able to have to be successful week in and week out over a long period of time is the ability to throw the football accurately and with velocity. And clearly, when I look at the tape, I don't see either of those. I don't see the ball going down the field. You see the bubble screens, the bootlegs, throwing the ball in the flat, nothing down the field. You just don't see a skill set that projects to be a consistent NFL quarterback. Things don't look good when you're on the field with Max Hall. It's that simple. I'm sure he's a wonderful guy giving everything he's got, but the skill set just isn't there.
"The one thing I'm beginning to see seep in is the wide receivers not finishing their routes, not working as hard as you have to. They're just not getting the football and when it comes their way, it is inaccurate, it's bouncing at their feet, it's high, it's behind them, so receivers begin to lose the confidence in the quarterback. These aren't things that I'm making up. These are things I look at when I see the tape. The eye in the sky doesn't lie. You're going to see the receivers become disinterested. They don't want to be out there lead blocking for power sweeps and stretch running plays. They want to catch some balls. It's an outstanding group of wide receivers. But you can see when the ball is not coming down the field, when the explosive plays aren't designed. You're going to lose the receiving corps."

Larry Fitzgerald, in particularly, has been quite visibly frustrated at times this season. Jaws has noticed.

"I can't see Larry Fitzgerald staying in Arizona with the present status of this football team," Jaws said. "I just can't see it. . . . . Larry Fitzgerald with 29 catches is somewhat of an embarrassment for someone with that skill set. . . . In all likelihood I think Larry Fitzgerald is going to be gone."

Needless to say, Jaws believes Derek Anderson gives Arizona the best chance to win. There's no sense in trying to develop Hall at this point because, as Jaws reminded listeners, the NFC West is still wide open.

For more NFL news, rumors and analysis, follow @cbssportsnfl on Twitter and subscribe to our RSS Feed .