Posted by Andy Benoit

The easiest thing in the world for a sports fan or sportswriter to do is criticize officials. Every year someone tries to force feed us the storyline that NFL refs are having an unusually bad season. This year there have been a few controversial calls, but the officials, for the most part, have ruled correctly a vast majority of the time.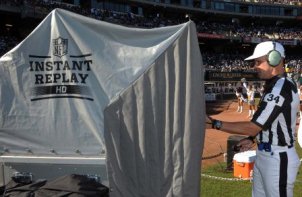 Here is stupendous validation to the notion (my notion) that NFL officials deserve an A for the work they've done not just this season but in general: 28 times so far, FOX's first-year replay guru, Mike Pereira, who retired as head of NFL officiating after the '09 season, has been summoned to offer live analysis and predictions on plays as they're being reviewed. "With the league, if I had to react to a play, I would do it on Monday," Pereira told Richard Sandomir of
the New York Times
. "I didn't have to make a snap decision. Now I do."
You've probably seen one of these segments. Pereira shares with viewers what the official is looking at and thinking about, and then he states how he thinks the official will rule. Of his 28 appearances, how many times do you think Pereira has correctly predicted the officials' call? Try 28.
"Everybody at Fox is waiting for me to miss one and see how I react," Pereira said. "For those people who think replay takes judgment out of the play, this call proves that wrong."
It also proves that the NFL does a great – GREAT – job of training its officials. The fact that the officials' former boss can watch what the officials are watching and know every time how they'll rule speaks to the league's unwavering commitment to enforcing the letter of the rule.
Indeed, the two calls that people are most chastising officials for are
Calvin Johnson
's Week 1 non-catch and Pittsburgh's Week 7 non-fumble recovery. In both instances, the officials rules correctly based on the letter of the law. A lot of fans do not agree with the letter of the law, but that's up to the NFL's Competition Committee, not the officials.
At the end of the day, it's simple. When a play happens live on the field, who is more likely to understand the rules around it: the drunken people sitting hundreds of feet away in the stands? The people watching on television? Or the trained professionals who are standing right there and paying attention to nothing else but possible rule infractions? Same concept applies to instant replay. Pereira's perfection only verifies that the officials know best.
For more NFL news, rumors and analysis, follow

@cbssportsnfl

on Twitter and subscribe to our
RSS Feed
.