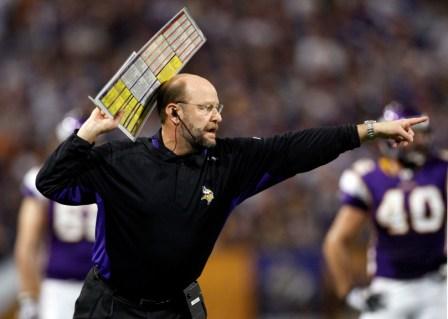 Posted by Josh Katzowitz
Last week,
we discussed
how the
Vikings
felt about playing for their head coach, Brad Childress. From talking to people close to the organization, we determined there wasn't much love lost.
Here's what I wrote:

Brad Childress hasn't been popular in the Vikings locker room for quite some time now.

Some in the organization believe Minnesota went to the NFC championship game last year in spite of Childress, not because of him. He came off looking awfully weak during the preseason when he traveled to Mississippi multiple times in an attempt to sweet-talk Brett Favre into returning for one more season. He's made other people in the organization deal with his dirty work when talking to the media, and he's made two of his top players (Favre and Randy Moss) look bad in recent press conferences.

…Many of the Vikings don't like playing for him, and worse yet, they don't respect him as a coach. You can be a hardass if you're Bill Belichick, and yeah, maybe some players despise playing for guys like that. But there's no question Belichick has the respect of the locker room. Childress simply doesn't.
Today, the
Chicago Sun-Times
talked to an unnamed player who basically confirmed what we were talking about.
The Vikings apparently won't quit on the season, despite not enjoying their time with Childress. But, because he bullies people and blames his players more often than he blames himself, they won't be sorry to see him go (if he, in fact, is fired at some point).
"We know that Childress doesn't have our backs, so why should we have his?'' one player told the paper. ''We're playing for us, and we're winning despite him.''
The player discussed Childress' lack of people of skills, but only when Childress turned his attention on Favre and WR
Percy Harvin
did he really begin to lose the team. When he bitched about Favre having a tough game vs. the
Packers
last month and when he questioned Harvin's effort during a practice as he tried to recover from a bad ankle, that's when things really got bad in Minnesota.
From the Sun-Times:
(Childress) threaten(ed) to make Harvin inactive for the game against the Cardinals.

Harvin was animated in defending himself, but Childress responded by saying, ''I can say whatever I want,'' according to a source.

The two had to be separated, but Harvin was applauded by several teammates and even coaches for standing up to Childress.

Another problem for Childress might be that Leslie Frazier, who surely will get to be a head coach soon, is the team's defensive coordinator and seems to have the support of the team.
Clearly, unless the Vikings win the Super Bowl, this will not end well for Childress. Unlike Wade Phillips, who people felt sorry for because he comes across as such a nice dude, it sounds like there won't be many tears shed when Childress departs.
For more NFL news, rumors and analysis, follow @cbssportsnfl on Twitter and subscribe to our RSS Feed .