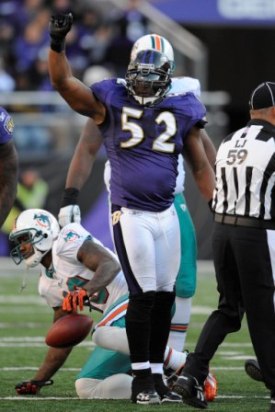 Posted by Josh Katzowitz
If you asked NFL players if they wanted to disband the Thursday night game that begins this week, 99 percent would vote in favor of such a move. That's the viewpoint of
Ravens
LB
Ray Lewis
at least, and that's what he told the
Baltimore Sun.
The main reason: there's almost no wind-down or preparation time from one game to the next. To wit, the Ravens beat the
Dolphins
and the
Falcons
held off the
Buccaneers
on Sunday afternoon. Four days later, they'll play each other at the Georgia Dome.
Usually, during a regular NFL work week, Monday is a day for meetings and light workouts. Tuesday is a dark day, when players are off and coaches are game-planning for the next weekend. On Wednesday, practice begins again.
In the Ravens' case: they practiced Monday and Tuesday, and they traveled to Atlanta today.
Lewis is doing it because it's part of the business of the NFL, but he also equates the Thursday night game with the 18-game schedule that almost certainly will be implemented in the next Collective Bargaining Agreement.
In other words, he doesn't want it, because it's not fair to the players.
"It goes back to the 18-game schedule," Lewis said. "You have to ask yourself a real question when you schedule games like this: Who does it help? Because it doesn't help the players. That turnaround is just too quick. You go from playing a physical game on Sunday and you have less than four days before you have to physically get back up again. It takes a week for guys to really heal."
For more NFL news, rumors and analysis, follow @cbssportsnfl on Twitter and subscribe to our RSS Feed .