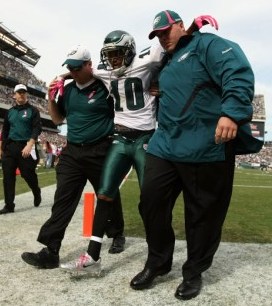 Posted by Josh Katzowitz
An interesting story by the
Associated Press
here on the as-yet-unrealized concussion-proof helmet that probably will never come into being.
Recently-concussed
Eagles
WR
DeSean Jackson
, for instance, was given a new, specially-made helmet that is supposed to reduce head injuries. But the manufacturer can't guarantee that the helmet will prevent concussions.
It's probably impossible, in fact. A scary thought.
From the AP:
In a series of interviews with The Associated Press, representatives of the NFL, its players' union and the four equipment companies that make every helmet worn in the league all agreed there's no football helmet – in production or on drawing boards – that can eliminate concussions. And there might never be one.

The NFL acknowledges that the lack of a perfect helmet contributed to its decision in recent weeks to use hefty fines and the threat of suspensions to cut down on dangerous hits. It's also why the league's head, neck and spine medical committee is holding a two-day meeting next month to look into new ways to test and design helmets.

"A concussion-proof helmet? So far, there's nothing to that effect," said Ray Anderson, the NFL's executive vice president of football operations. "I don't know if (manufacturers) could ever convince us or assure us that a helmet that would absolutely prevent concussions is doable. I haven't heard such a thing."
And you know what? Even if this helmet could be conceived and available to NFL players, I guarantee many – if not most of them – would bypass the product altogether and play with what they've got now.
That's perhaps the saddest part of all.
For more NFL news, rumors and analysis, follow @cbssportsnfl on Twitter and subscribe to our RSS Feed .