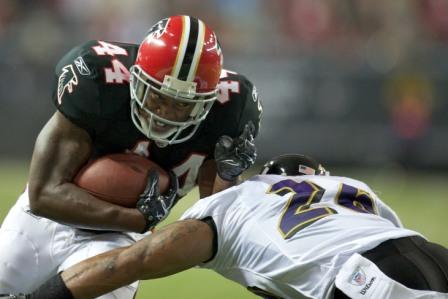 Posted by Josh Katzowitz
The
Ravens
defense, last seen allowing a last-minute, game-winning, 80-yard drive to
Matt Ryan
and the
Falcons
on Thursday night, is so damn unimpressive, the Baltimore Sun wrote two articles about it today.
Here's
the first,
and here's
the second.
Some people might blame second-year defensive coordinator Greg Mattison as one reason why the Ravens have given up six fourth-quarter leads this season, but if you look at last season – Mattison's first as the DC – Baltimore ranked third in yards allowed (300.5 yards per game) and third in scoring (16.3 points).
The Ravens, it should be noted, rank 11th and eighth, respectively, this season. Which, you know, doesn't put them in line for worst defense ever.
As Sun columnist Mike Preston sees it, however, the problem is a lack of talent. And he might be on to something. Baltimore has LB
Ray Lewis
, DT
Haloti Ngata
, S
Ed Reed
and LB
Terrell Suggs
. And who else exactly?
The secondary, meanwhile, continues to struggle badly, and the Ravens have a tough time rushing the passer (entering Thursday's game, they ranked tied for 22nd with only 14 sacks on the season).
Writes Preston:
So if you blitz, your cornerbacks are exposed. If you don't, then a quarterback such as Tom Brady or Peyton Manning will pick you apart given time. It's basically a no-win situation, but it's not like we all didn't know this going into training camp.

Certainly, there is a real concern here about how far the Ravens can go in the postseason facing a potential quarterback list of Brady, Manning, Ben Roethlisberger and Philip Rivers. Just like Atlanta rolled out a spread formation, so will these other teams. I suspect that once the criticism of Mattison dies down, some will be directed at general manager Ozzie Newsome.
For all this talk about how the Ravens are Super Bowl contenders, it makes it difficult to believe those proclamations if their defense continues to falter. Obviously, they've got wonderful receivers, a sturdy quarterback and running back dynamo. Offense isn't the problem.
But what's been so dominant the past decade in Baltimore is, right now, the unit that could kill its chances for a deep postseason run.
For more NFL news, rumors and analysis, follow @cbssportsnfl on Twitter and subscribe to our RSS Feed .