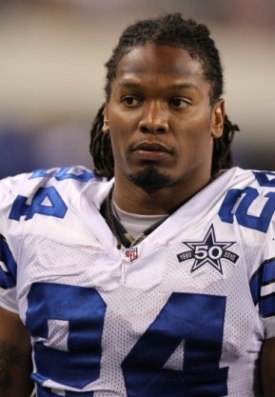 Posted by Josh Katzowitz
It didn't take long for one of his players to push the limits of new
Cowboys
coach Jason Garrett.
Only five days after Garrett officially replaced Wade Phillips – known as a laid-back coach who perhaps should have been more controlling with his team – Dallas RB
Marion Barber
disregarded
Garrett's dress code instructions.
On their trip to New York, the Cowboys were told to wear slacks, coats and ties. Barber – who, by the way, is a team captain – wore jeans, an untucked shirt, no tie and sneakers without socks on both legs of the trip, according to the
Fort Worth Star-Telegram.
As news of this infractioned filtered out early Sunday, we wondered how Garrett would respond. Would he lie down and disregard the insubordination, like Phillips might have done? Or would he immediately make an example out of Barber and maybe earn some respect from the team?
It sounds like it was more the latter. Though Garrett clearly hasn't wanted to talk about it, sources told the paper that Barber has been fined an undisclosed amount of money.
"We lay out expectations for our players for all different kinds of behavior, and there will be consequences if they don't follow those procedures," Garrett told reporters, "and we'll keep those consequences in-house."
At his Monday news conference, he was asked about the transgression four more times.
"We're going to spend a lot of time on this aren't we?" Garrett said. "This is how we're going to handle these situations going forward. We're going to handle them in-house. Does everybody kind of understand that? So what we're going to do for our players is lay out the expectations, and if they don't meet those expectations we're going to handle them in-house and we're not going to talk about them publicly. OK? Everybody got that going forward?"
Barber – who, we should remind you, is a freakin' team captain – declined comment Sunday and was not spotted by reporters Monday.
Thus, at this point, it's impossible to tell what kind of discipline Garrett laid out to his running back (after all, it could be a $10 fine or a $10,000 fine) who has been pretty ineffective this season. Barber didn't start, but Garrett said that was unrelated to the dress code violation. He also had 47 yards on the ground, his second-highest total of the season.
For more NFL news, rumors and analysis, follow @cbssportsnfl on Twitter and subscribe to our RSS Feed .