Posted by Andy Benoit and Will Brinson
Titans tight end Craig Stevens will miss a few weeks after having his knee scoped.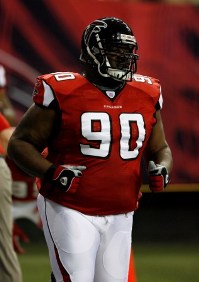 The Jets will be without wideout Jerricho Cotchery (groin) this week .


Maurice Clarett has completed his first full football season since 2002 when he was a superstar at Ohio State


An arrest warrant has been issued for former NFL defensive tackle Grady Jackson. Authorities believe he has a $50,000 watch that he shouldn't have. Jackson says it's all a misunderstanding .


Want to see an unbelievably hysterical Tom Brady rant mock video ?


DeAngelo Williams' contract situation .


Marion Barber won't be benched in Dallas.


Ravens not underestimating Brian St. Pierre. In unrelated news, they won the award for "Most Cliche Gamespeak of 2010 ".


The Chiefs may be without sensational rookie tight end Tony Moeaki this week (he suffered a head injury late against the Broncos).
Joey Galloway is getting dumped on in Washington . He's had a very solid career, but is it a surprise that the 38-year-old who couldn't stick on the Steelers or Patriots rosters last season is struggling now?


Rams punter Donnie Jones is getting some love .


Linebacker Mark Simoneau has retired after his short-lived comeback effort in Kansas City resulted in him going on Injured Reserve .


As expected, Rob Ryan's name is starting to be tossed around in head coaching discussions.


The Broncos brought back running back Andre Brown. He was with the Giants in training camp, the Broncos early in the season, then the Jags for a few weeks, then the Colts and now the Broncos again. So is he extremely wanted or extremely unwanted ?


The Packers are giving Sam Shields another crack at punt returns .


For more NFL news, rumors and analysis, follow @cbssportsnfl on Twitter and subscribe to our RSS Feed .