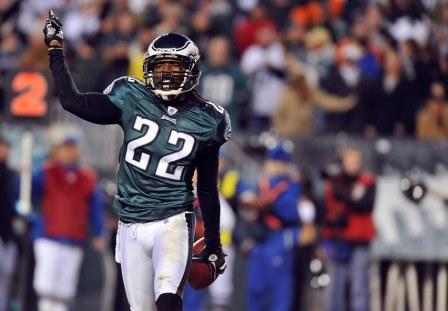 Posted by Josh Katzowitz
Although
Michael Vick
has been an MVP candidate all season long – No turnovers! Video game athleticism! Unbelievable arm strength! A complete quarterback now! – you knew, at some point, the
Eagles
were going to have to win in spite of his mistakes.
Tonight, Philadelphia showed it's more than capable of doing that.
Vick wasn't as electrifying as usual – though he was still very good in Philadelphia's 27-17 win – and he made a few mistakes en route to a 24-of-38, 258-yard performance. He lost a fumble because he lazily held the ball away from his body. He allowed the
Giants
to seal him into spots where he couldn't escape (to be fair, New York was actually pretty effective in making him more one-dimensional than normal and only allowing him 34 rushing yards). He didn't look like the absolute best player in the NFL.
But Philadelphia still managed to turn back a tough Giants squad which took a 17-16 lead with 13:35 to play.
They did it without much help from WR
DeSean Jackson
. Instead, WR
Jeremy Maclin
had big game, WR
Jason Avant
(his bumbling of what should have been a wide-open TD pass, notwithstanding) had a big catch as the Eagles drove the field on what was their game-winning drive, and RB
LeSean McCoy
took a fourth-and-one pitch 50 yards to a touchdown before putting the game out of reach with a 40-yard run late in the fourth quarter.
And they did it with their defense, intercepting
Eli Manning
three times (one by LB
Stewart Bradley
was in garbage time, and CB
Asante Samuel
had the other two picks (though he fumbled the ball right back to the Giants on one of them)) and forcing fumbles from
Ahmad Bradshaw
and Manning.
Obviously Philadelphia still has its faults, and there's little question that if the teams played next week in the New Meadowlands, the game would be a pick 'em. But the Eagles proved something tonight. Even when Vick isn't at his best, they're still an effective squad that could make a deep run into the playoffs.
With Vick at his best, they're Super Bowl contenders.
For more NFL news, rumors and analysis, follow @cbssportsnfl on Twitter and subscribe to our RSS Feed .