Posted by Andy Benoit

So let's get this straight: Brad Childress gets a contract extension in 2009 and leads the Vikings to the NFC Championship Game. Minnesota's 12-4 record marked the third time in three years that Childress' team improved its win total by two games over the previous season.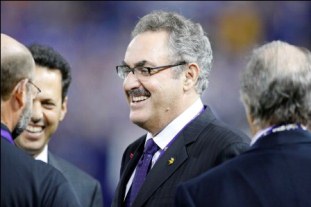 But sadly, over these past three months, Childress has…what? Suddenly forgotten how to coach? Vikings owner Zygi Wilf was reportedly furious at Childress for waiving Randy Moss. And, obviously, Childress' relationship with Brett Favre has been a black eye on the entire organization this season.

But let's examine both situations and ask, How many other head coaches would have had their credibility with their owner derailed by a petulant wide receiver who was brought in midseason, by a quarterback who did not rejoin the team until mid-August and by a slew of anonymous players who like airing dirty laundry to the press?

Wilf is a hands-off owner who tries to be hands-on. In other words, he understands business but does not understand football. The bullets that made Childress a lame duck coach came primarily from Favre's gun, Moss' gun and the guns of those six anonymous players. But it was Wilf who ultimately created a culture that allowed those players to have guns in the first place.

By all accounts, Childress does not have the type of personality that garners many dinner invitations. But that can be said about a lot of coaches. Yes, football is a people business, so at some point the personality matters. But isn't it funny that Childress' personality did not matter when this team was winning last season?

Childress had final say over personnel; one would assume VP of player personnel Spielman now has final say. Wilf is reportedly fond of Spielman and the rest of the Vikings front office. Presumably, if interim head coach Leslie Frazier can earn the job long-term (Frazier is a perennial leading head coaching candidate) the Vikings organization can maintain its current structure. But for that structure to succeed, Wilf must take a hands-off approach on football matters.

It's entirely possible that Wilf's decision was influenced by non-football factors. In that case, it'd be difficult to criticize this move. Childress is not popular with the fan base. The Vikings, because of their expiring stadium lease and uphill financial circumstances, need a happy fan base. Thus, economics and political circumstances may have made Childress a sacrificial lamb.

Of course, continuing down that path of thought…the fan base's disenchantment with Childress derived from the players' disenchantment of Childress, which derived from the culture of Wilf's organization. Was it the wrong move to fire Childress? You could argue it either way. Regardless, the Vikings' problems are almost certainly deeper than just the head coach.

For more NFL news, rumors and analysis, follow @cbssportsnfl on Twitter and subscribe to our RSS Feed .