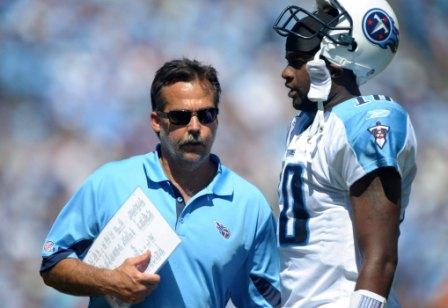 Posted by Josh Katzowitz
Part of the reason we all follow sports is for all the insult material. I insult your team. You insult his team. You all insult my intelligence. There's nothing better than a solid day of watching football and insulting all your buddies and having them insult you right back.
Unless it's watching other people insult each other. Which happens ALL the time in the NFL. I'm not necessarily talking about players woofing at each other on the field, though that obviously has its place on any top-ten insults list. But I'm talking about the crowd insulting a player, a team insulting one of its own or a player insulting a coach in front of the rest of his teammates (psst, this last one might have occurred this past week).
So, let's explore the best of what the NFL has to offer as far as metaphorically slapping people in the face. And if you choose to ignore this story, your mother wears Army boots.
10. Jonathan Stewart to Panthers offensive line
: We'll start it off relatively mild. After Stewart rushed for 30 yards on 14 carries vs. the
Rams
in Week 7, he complained about how his offensive line wasn't opening enough holes. Sure, Stewart has a rushing average of 3.0, but unless
Mike Goodson
(220 combined yards in the past two games, 12 yards MORE than Stewart's season total) is rushing behind a different offensive line, I'm not buying Stewart's argument.
9. Thirty one NFL teams to Marc Mariani
: The rookie, drafted in the seventh round this year as the No. 222 overall pick has been a breakout performer for the
Titans
. Listen, just because he played at Montana doesn't mean he can't hang in the NFL. Look at his stats as a punt returner. He's third in the NFL with a 17.1 yards per punt average and his 87-yard TD return Sunday was his second score of the year.
8. Carson Palmer to Chad Ochocinco
: Palmer has found a new play toy with
Terrell Owens
– who's got 12 more catches and four more TDs than Ochocinco. Partially, it's because Ochocinco, at times, doesn't run the most technically-proficient routes. Of course, Owens gives up on plays some of the time, but there's little question Owens has been much more effective this season. And Palmer knows it.
7. John Fox to his bosses/fanbase
: I'm not sure this qualifies as an insult because I'm not sure exactly what's going on in Fox's head. But here's what I know: he won't be back as coach in Carolina next year and he decided not to use backup QB
Tony Pike
and started
Brian St. Pierre
last week instead, although St. Pierre was a stay-at-home dad the week before. Pike, a rookie, probably wouldn't have done much better, but this was an odd move.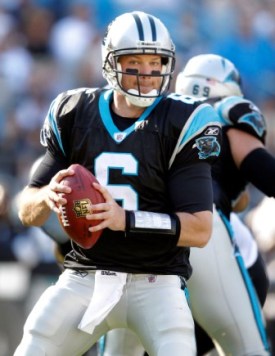 6. San Francisco's Week 2 MNF crowd to Alex Smith
: When you call for
David Carr
to replace your starting quarterback, Candlestick Park crowd, you insult EVERYONE.
5. Michael Vick to dog lovers everywhere
: This is an interesting dynamic. If you're a dog lover, is it impossible to root for Vick? I love dogs, but I think Vick has paid his debt to society and he shouldn't be scorned for the rest of his life. I also have friends who would like to see Vick ripped limb by limb by one of his former pets, and they always will hope for that moment. Is it me, or do people make a bigger stink about Vick than they do about, say,
Ravens
WR Donte Stallworth who pleaded guilty to DUI manslaughter and then served only 24 days in jail?
4. Dallas Cowboys to Wade Phillips
: Weird how, as soon as Jerry Jones pick-slips Phillips, Dallas suddenly plays some of its finest football of the season. Interim coach Jason Garrett probably should get a tiny bit of credit, but why suddenly are the Cowboys on a two-game winning streak? Probably because they all hated Phillips and wanted him to fail and fail hard (I kid, I kid).
3. Terrell Owens to Donovan McNabb
: It's beyond me why Owens would feel it necessary to comment on McNabb's new contract with the
Redskins
, asking how the new deal could be justified while Washington and McNabb were taking a beating by the
Eagles
. McNabb came back and basically asked why a guy playing on a 2-7 (now 2-8) team was criticizing anybody. And it was a good point. A better point: why do we listen to Owens at all when he talks this kind of trash?
2. Vince Young to Jeff Fisher
: Just one paraphrased quote when Young departed the Titans locker room Sunday while Fisher was giving his postgame talk said it all. "I'm not walking out on my teammates; I'm walking out on you." The repercussions of that statement will be felt by Fisher and Young for years to come.
1. NFL owners/players to NFL fans
: This one hasn't happened yet, but it's been hanging over the entire season like a low-lying storm cloud that's ready to unleash hell at some point soon. Of course, I mean the impending owner lockout, which would stop all work in the NFL. I have a hard time believing the owners and players won't work something out before the start of the 2011 season, but it's entirely possible they could give you the biggest insult of all: no football.
For more NFL news, rumors and analysis, follow @cbssportsnfl on Twitter and subscribe to our RSS Feed .