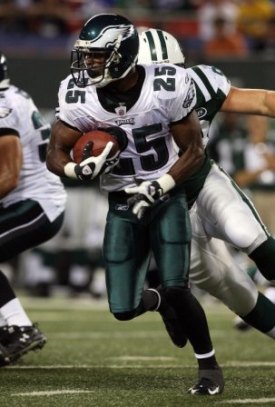 Posted by Josh Katzowitz
By now, you might heard about the UFL's seemingly-ridiculous transfer fee for an NFL team to sign a player from a UFL squad. In order to add a certain player, the NFL team has to pay a transfer fee of $150,000.
According to
Pro Football Talk
, at least four UFL players have worked out for NFL teams since the UFL's regular season ended. But none of them signed with the NFL.
This might tell us that no NFL team is interested in paying $150,000 for the right to take a player off the roster of a UFL squad (it could also mean that those four players were simply not good enough).
The latest player caught in the crosshairs of this non-arrangement is Lorenzo Booker, who previously had played with the
Eagles
and
Dolphins
. Apparently the
Vikings
wanted to sign the running back, who actually skipped the UFL's regular-season finale as a protest to the transfer fee, but the UFL isn't waiving the fee.
I can understand the UFL's position here. If the NFL is going to pluck a standout from a UFL roster, that NFL team should have to pay the UFL squad some kind of restitution. That's only fair.
But the UFL, which seemingly has represented itself as a minor league for the NFL, also isn't making life easy for those who are continuing their careers in that league. According to PFT, there were 43 UFLers who joined the NFL last year. If there isn't some kind of precedent where an NFL team decides spending $150,000 to transfer a minor-leaguer to the big show, do these players want to take a chance on the UFL? After all, they might never get off that minor-league roster?
If not, how much does this water down the UFL's product? And how much does the af2 benefit?
(That last question, by the way, was a joke).
For more NFL news, rumors and analysis, follow @cbssportsnfl on Twitter and subscribe to our RSS Feed .