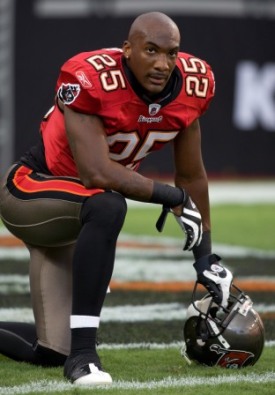 Posted by Josh Katzowitz
Apparently,
Buccaneers
CB
Aqib Talib
and one of the officials working the Tampa Bay-Baltimore game last Sunday simply had a conversation.
No, no, there was no obscenity-laced shouting match that
we wrote about here.
No, the official absolutely did not call Talib a (lewd term for a female body part), and Talib, in response, did not threaten to hit the official in the mouth and teammates did NOT have to hold him back.
Nope, according to Bucs coach Raheem Morris, it was just a conversation.
"He didn't do anything wrong," Morris said, via the
Tampa Tribune.
"He was just in conversation. He was just in conversation, so I'm not going to sit here and act like Aqib did anything wrong toward the official because I'm not into that. That's between those two men and whatever happened happened."
Naturally, Morris' defense seems a tad ridiculous, even if the NFL won't fine Talib, according to the
St. Petersburg Times'
Rick Stroud.
As Martin Fennelly writes, though, he can't believe Morris' defense of Talib, because Talib is such an emotional wild card.
Writes the Tribune's columnist:

Plenty of people inside One Buc Place keep their fingers perpetually crossed. They hope Talib doesn't do something stupid and endanger his livelihood or his team's chances. The guy is crazy talented, but sometimes he's just crazy.

How does someone who is clearly on the commissioner's radar get into it with an official?


That rotten pass interference call Talib was angry about happened late in the first half, not the second. Morris, who went crazy himself at the time, was calmed by game's end. Every Bucs player made it to the losing locker room without going ballistic, all except one. Talib remains a wild card, the wildest, in fact.
For a guy in Talib who has a history of off-the-field issues, perhaps Morris shouldn't be so quick to jump to his defense. Even if the NFL said he didn't commit a fineable offense, maybe glossing over a potential problem isn't the best option.
For more NFL news, rumors and analysis, follow @cbssportsnfl on Twitter and subscribe to our RSS Feed .