Posted by Andy Benoit
We never hear this about
Ben Roethlisberger
, but he's one of those guys who can be described as a "better athlete than quarterback". From a pure fundamental standpoint, Roethlisberger is not a very good NFL quarterback. His footwork on dropbacks can sometimes be iffy. His pocket mechanics are occasionally slipshod, in part because his pocket awareness is raw. Roethlisberger does not read the field well before the snap. In fact, some scouts suspect that he occasionally does not re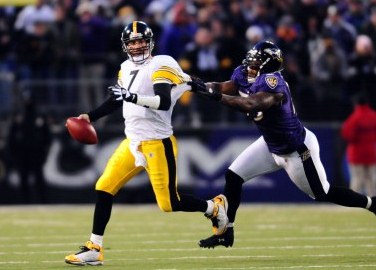 ally read the field at all.
And yet, it's plain to see that Big Ben is one of the best players in football. A two-time Super Bowl-winning quarterback capable of posting big numbers and leading heroic late-game drives. There might not be a more feared player in the game on third-and-long.
So how is Roethlisberger, given his unrefined fundamentals and awareness, a superstar? For one, he's a remarkable athlete. No need to elaborate – we've all seen plays where the 6'5", 240-pounder bounces off multiple would-be sackers, flees the pocket, sidesteps another sacker, returns to the pocket and unwinds a side-armed bull's-eye while falling to the ground. That's natural talent at its finest.
What's more, Roethlisberger is instinctive beyond belief. While most quarterbacks thrive on diagnosing and anticipating what a defense will do, Roethlisberger would rather wait, see and react. When he does this, he's relying on his instincts rather than his intelligence. He's the only quarterback in football who can consistently operate this way.
This wait, see and react approach is the reason Roethlisberger holds the ball so long. And it's the reason he is so difficult to gameplan against. Normally, the
Ravens
, with their aggressive, complex 3-4 scheme, overwhelm a quarterback who has limited field recognition. That comes from
Ed Reed
. With his range and uncanny football IQ, Reed disguises coverages better than any player in the game.
But disguised coverages don't always work against the
Steelers
because Roethlisberger does not follow the fundamental chain of reads that quarterbacks are taught to follow. Think of it like telling a lie to someone who speaks a foreign language: your lie might be crafty and well delivered, but it won't matter because your recipient is oblivious to everything you're saying anyway.
In the end, Roethlisberger's frenetic style forces defenses to be reactionary. Certain defenses – like the
Colts
, for example – can get by on being reactionary. But the Ravens, with their thin secondary (backup corners
Chris Carr
and
Josh Wilson
are simply fill-in starters) and dependence on presnap confusion and blitzes, cannot.
Thus, it's important the Ravens get the type of pass-rush pressure on Roethlisberger that forces him to make quick decisions. It's not enough to simply blitz and hit him – he'll just extend the play and work his magic. The key is getting clean rushers at him. And the way to do that is to confuse Pittsburgh's makeshift offensive line.
Expect the Ravens to use overload blitzes and zone exchange concepts that will force the Steeler blockers to make fast reads and be athletes (neither of which they're particularly good at). Look for the Ravens to crowd the line of scrimmage with more players than the Steelers can block prior to the snap. Upon the snap, Baltimore will create chaos with an unpredictable array of stunts, drop backs or all-out rushes after the snap. They'll avoid doing the same thing two plays in a row. The more confused the Steeler blockers are, the quicker Roethlisberger will be forced to get rid of the ball. The quicker he gets rid of the ball, the easier it will be for Baltimore's front seven to dictate the action.
For more NFL news, rumors and analysis, follow

@cbssportsnfl

on Twitter and subscribe to our
RSS Feed
.