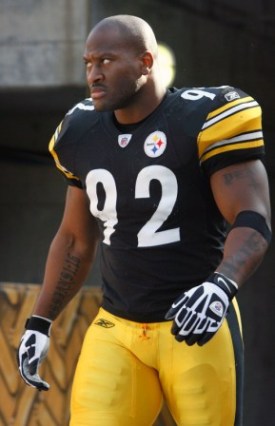 Posted by Josh Katzowitz
With the $125,000 in fines
Steelers
LB
James Harrison
has racked up this season, Pittsburgh owner Art Rooney II thinks there might be something to the idea that his squad is being scrutinized by the league with extra-sensitive eyes.
He's also worried the Steelers might stop playing as aggressively on defense because of the threat of fines for big-time hits.
So, is Pittsburgh being targeted?
"It certainly looks that way," Rooney told the
Pittsburgh Tribune-Review.
"Not that we're expecting much sympathy from other teams, but I think some of this will be part of the discussion after the season is over. Hopefully we'll all have our chances to express our opinions and at that point have a better understanding of where the owners in the league stand on some of this.
"I think we're sympathetic to the idea that we need to focus on player safety and particularly on helmet-to-helmet hits. The other side of it is it's still a football game, and I think we've got to be realistic about how the rules can be changed and what we expect of the defensive players in particular."
From the story:
Ray Anderson, the NFL's executive vice president of football operations, told the Tribune-Review yesterday that the league is not singling out Harrison.

Anderson did put the onus on Harrison to play within NFL rules. He added if the Steelers' sacks leader continues to run afoul of them that it could see him suspended.

"At the end of the day we have an important responsibility, and if that means at some point we have to remove a player from the field to get the message clearly in his mind and to protect players that he's violating, we will do so," said Anderson, whose office reviews every play from a given week and decides if any warrant fines. "But we hope that doesn't come to pass."

Harrison said earlier this week that he won't change his style of play and "will let the chips fall where they may."

Look, I have some sympathy for Harrison, because the NFL saw fit to change its rules in the middle of the season and because everybody is still confused about what is and what is not a legal hit.
But the fact of the matter is that these rulings are not going to change (this season, at least). So, if Harrison isn't going to adjust his style of play, he can expect the NFL to keep taking his money.
He can decry the fact he's been targeted – and you're crazy if you don't think officials are keeping an extra eye on him at all times (that's what happens when you develop a reputation like this) – but if other players can tweak their styles to avoid the potential for badly injuring players, it's not impossible for Harrison to do the same.
For more NFL news, rumors and analysis, follow @cbssportsnfl on Twitter and subscribe to our RSS Feed .