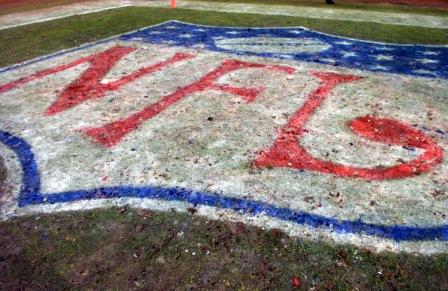 Posted by Josh Katzowitz
It's no surprise that the Soldier Field turf is continuously called one of the worst playing surfaces in the NFL. In player polls, the Chicago stadium's natural-grass field is usually cited as … well … pretty crappy. Even by
Bears
players themselves.

If you want one example, look at the photo above. This was taken after the 2007 NFL conference championship game.
Now that Chicago QB
Jay Cutler
has criticized the playing surface, Soldier Field – well, not the actual stadium, but one person who helps run it – has defended itself, saying the field is actually one of the BEST in the NFL.
Said Cutler this week, via the
Chicago Tribune:
"We probably have one of the worst fields in the league at this point. (Cutler hears) a lot of stuff (from opposing players) after the game and during pre-game about what cleats to wear ... exactly how torn up (Soldier Field) is. There's usually a (high school) game the day before. It's a shame."
Responded Soldier Field GM Tim LeFevour: "It's unfortunate. You hate to hear comments like that because there's a strong commitment by the city, the Chicago Park District, the management here at Soldier Field to keep this as one of the best fields in the NFL."
LeFevour also said the stadium is not allowed to host any kind of game five days prior to a Bears contest, though as the
Tribune
writes, "in the case of this year's Prep Bowl, an annual high school game between the Public League and Catholic League champs that was played the Friday before the Nov. 28 Bears-Eagles game, the Bears approved of the event, the Park District said."
The city has talked to the Bears about possibly getting a synthetic turf installed and getting rid of the natural grass – which apparently is re-sodded three times a year so the team doesn't play more than four games on any one turf – but so far, the club isn't inclined to do so.
And the fact is the natural grass is the reason why it's so tough to keep the field in pristine condition (see also: Heinz Field in Pittsburgh). Until the Bears decide to install some kind of artificial turf, the complaint about Soldier Field as one of the worst fields to play on will continue.
Unless you're talking to LeFevour, of course.
For more NFL news, rumors and analysis, follow @cbssportsnfl on Twitter and subscribe to our RSS Feed .