Posted by Andy Benoit

The Packers have said that quarterback Aaron Rodgers, who suffered his second concussion in six weeks against the Lions last Sunday, will not practice this week until at least Friday. His status for the Patriots game this Sunday night is very much up in the air.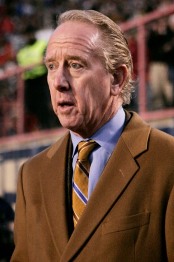 Rodgers' situation casts a bright light on the concussion issues that have taken center stage in the NFL this season. This is essentially the first case of a superstar player possibly having to sit out in what amounts to a virtual "must-win" game.

We had a chance to ask Archie Manning – a man who knows a thing or two about playing with concussions – if he'd want Peyton or Eli to play if they were in Rodgers' position.

"I'd certainly be concerned," Archie Manning said. "I think the good news is unlike years ago when I played, I think the league and doctors and teams are on top of this. But it's just such a concern, I've never seen so many concussions. And I know years ago they didn't call them concussions, they said you were just dinged. They didn't pay as much attention as they do now. Certainly I'd be concerned if it was my son."

It just so happens that because the man Rodgers once backed up missed his team's game Monday night with a shoulder injury, Archie's oldest quarterbacking son now holds the longest consecutive starts streak in the NFL (205). And the game Brett Favre missed Monday night was also Eli Manning's 100th consecutive start.

So why is it that the Manning boys don't get hurt?

"My advice has always been to know what you're doing so you can get rid of the football," Archie Manning said after noting simple good fortune. "I think the cerebral part of the game is important. If you hold onto the ball, somebody is going to hit you. The less times you get hit, the greater chance you have to answer the bell every Sunday. But I'm not proclaiming anyone to be an ironman because it's a tough game out there and anyone can get hurt on any play."

That, of course, is the main reason there's so much concern about putting Rodgers on the field this Sunday.

Archie Manning is spreading the word about college football's Liberty Mutual 2010 Coach of the Year Award. Fans can vote daily now through December 28.