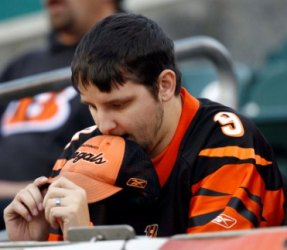 Posted by Will Brinson
If
Carson Palmer
truly loved the
Bengals
, he'd take less money to help the team next year. Of course, maybe this means he's finally realized (and he's the last one to do so) that his arm is a malfunctioning trigger, with a percentile of the talent it once held.
If the latter's the case, you can't fault Palmer for wanting to get as much money as he possibly can. And according to a report
from ESPN's James Walker
, he won't be taking less than the $11.5 million he's owed next year.
Which means one three things will happen. Either the Bengals will pay him the money and hope he somehow hops off the bell curve that is his career and goes back to being a Pro Bowl-type player. (This seems unlikely.)
The second is that the Bengals find a trading partner for him. Now, I'm not entirely what they'd ask in return, but it certainly can't be much -- maybe a third- or fourth-rounder at the very best?Any team that took his salary would be required to hope he could salvage his career.
And finally, the Bengals could cut him. With Marvin Lewis likely gone (his contract ends) this seems like a reasonable time to see some serious changes with the Bengals. Those changes will involve getting rid of anyone who causes a lot of noise AND gets paid a lot money and probably anyone who makes a lot of money but isn't really young.
In other words, Mike Brown will tighten up his belt even further.
The good news is that if sucks it up and cans his once-up-a-franchise quarterback, he'll save a ton of money, a lot of heartbreak in Cincy, and give the team a chance to make a run at a youngster in the draft.
But the bad news is that either the rookie or
Jordan Palmer
(Carson's bro, who is MUCH better with iPhone games than he is with actually playing football) for the entirety of the 2011 season.
For more NFL news, rumors and analysis, follow

@cbssportsnfl

on Twitter and subscribe to our
RSS Feed
.