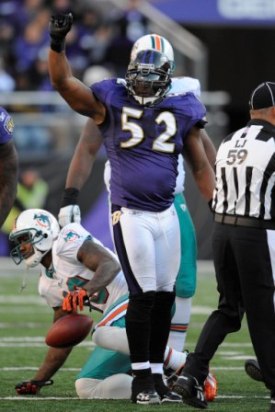 Posted by Will Brinson
The
Ravens
and
Saints
square off in what's a pretty critical out-of-conference meatchup that might have "Super Bowl Preview" written all over it. Or not.
Remember, the Ravens are struggling a lot in pass coverage these days. And the Saints don't get the cover of their dome, which clearly means they're terrified to play football. If you're
Ray Lewis
anyway.
"You talkin about a dome team," Lewis said
in a video on the
Baltimore Sun
. "And that says enough about itself. And I think bad weather plays a part no matter who's out there playing.
"If it's windy, it's snowy, throwing bcomes a problem unless youre certain team that can play in any type of weather. I just think overall bringong a dome team out of their into a crazy, loud envirorment like Baltimore can play a factor."
Of course weather pays a factor. Thats why Monday night's game isn't even being played at the Metrodome -- weather train-wrecked that stadium.
And yeah, the Saints would definitely be willing to say "weather is a pain." It's ALWAYS a pain, regardless of where you're playing, unless you're a team that's used to conditions.
So, yeah, Saints will probably not like the windchill and "not balmy" nature of Baltimore. But it's not their first rodeo in a cold-weather stadium. And something tells me they'll adjust.
For more NFL news, rumors and analysis, follow

@cbssportsnfl

on Twitter and subscribe to our
RSS Feed
.