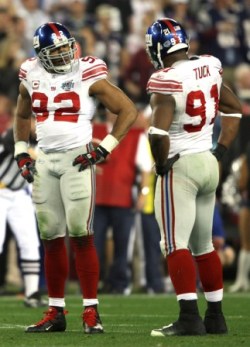 Posted by Josh Katzowitz
On Tuesday, former
Giants
great (and current Subway spokesman) Michael Strahan went out of his way to criticize his former team, telling the Dan Patrick Show that the squad should be ashamed of itself for the way it blew a 21-point lead to the
Eagles
.
"The end of the game was fitting because you don't let a team back in when you're up like that," Strahan said in his interview. "The Giants have not finished. I don't know if they know how to finish, and they need to learn how if they expect to do anything this year. You have to have a killer instinct. You have to finish teams."
Which is funny to current Giants standout
Justin Tuck
, who seems to recall that Strahan played on the Giants squad which surrendered a 21-point fourth-quarter lead to the
Panthers
in 2006.
Sure, Strahan was injured and didn't play in that game, but to Tuck, those are just insignificant details.
"Strahan was on that team and we lost that game," Tuck said, via the
NY Post.
"He was on the team, we fed off his leadership. We've all had times in our careers and times we've been on teams when things didn't go our way, I don't start pointing fingers."
And that wasn't all Tuck had to say.
"I don't understand how – I'm not saying he's not on our side – but he's talking to us one day and the next day you say that," Tuck said. "If I'm in that situation I might just close my mouth and say nothing. He's entitled to his opinion and I'm entitled to not really care."
I can understand why Tuck (who's pictured at right with Strahan in happier times) would feel hurt by the comments of Strahan, who was one of Tuck's mentors and who (I assume) didn't take great pleasure in bashing his former team. But, aside from the Subway thing, Strahan is paid to analyze the game. Sometimes you have to be objective about your friends. And if you think they should be ashamed, then, you say it.
Of course, your friends are going to be pissed, but hey, a man needs to make a living. A man, after all, can't live on Subway alone.
For more NFL news, rumors and analysis, follow @cbssportsnfl on Twitter and subscribe to our RSS Feed .