Posted by Andy Benoit

Something that has become downright impossible to understand is why the Chicago
Bears
occasionally leave
Devin Hester
on the bench for kickoff returns. They actually kept Hester out of the kick return role for essentially all of last season, but midway through this year, they wised up and re-inserted him.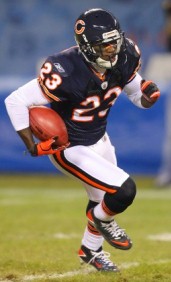 Still, about once or twice a game this season, including Sunday against the
Jets
, the Bears will replace Hester on kick returns with
Danieal Manning
. To be fair, Manning's swift speed makes him one of the most lethal return weapons in the game. He has more 40-plus-yard kickoff returns than any player in football since 20-08.
But to be fairer, Hester is the greatest return weapon of all-time. His mere presence on the field makes opposing coaches tremble and gladly sacrifice field position for security. This is why the Bears have the best average starting field position in the NFL.
Hester was only able to get his hands on one kickoff against the Jets Sunday; he took it back 40 yards, even though, initially, a return of 20 yards seemed impossible. Hester's lone punt return went for 38 yards.
Hester has essentially settled into a No. 3 receiver role, so it's not like the return duties are overly taxing anymore. And his contributions as a receiver are almost moot in this discussion anyway, because Hester's primary value to the Bears is – or should be – as a returner. So what's up with limiting his kick returns?
"Once the game is going, we go with the hot hand," special teams coordinator Dave Toub
told the team's website
earlier this month. "Also, we'll see if Danieal is fresh or not. Sometimes Danieal is due to go, but they've had a long drive on defense and he's tired, so we go to Devin. Sometimes we'll start a game with a particular returner just because of the game plan situation.
"We want to see sometimes how they're going to react to Danieal or react to Devin, so we'll start with different guys. We don't want to get into a specific pattern where we do the same thing over and over."
Toub's logic certainly makes sense. But the reality is, there is not much to see for how teams will react to Hester: they'll either kick it to the most dangerous special teams player in the game or they'll shy away and automatically give the Bears good field position.
For more NFL news, rumors and analysis, follow

@cbssportsnfl

on Twitter and subscribe to our
RSS Feed
.