Posted by Andy Benoit

The NFL stayed true to its word about placing the game with the greatest playoff implications in the primetime slot for Week 17. Thus, we all get to enjoy an NFC West showdown between the 7-8 Rams and 6-9 Seahawks this Sunday night. We could spend the next six days doing what we've done all season in regards to the NFC West: complaining. But with this dog-awful division race guaranteed to be over next week, we might as well just grin and make the best of this Sunday night.

So, let's start getting acquaint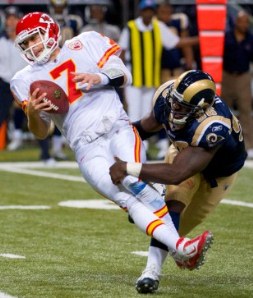 ed with some of the key players. The Rams are a less irritating team than the perpetually blown-out Seahawks (the Rams have at least made marked strides this season), so we'll focus on them. They have the NFL's 18th-ranked defense overall (15th against the run, 20th against the pass), which is impressive given the inexperienced secondary and linebacking core.

A big source of the surprising success has been the play of veteran defensive linemen Fred Robbins and James Hall. Robbins, the longtime Giant, was presumably washed up prior to this year. He's only 32, but he'd battled an array of injuries the past couple of seasons. Hall, the 33-year-old former Lion, was thought to be nothing more than a declining speed-rusher prior to this season.

As it's turned out, Robbins has been a cog against the run and, at times, a double-team attracting menace against the pass. He has always had phenomenal initial quickness for his size and wide build; that initial quickness has helped him register six sacks this season.

Hall has been a decent run-defender, though his forte has come as a pass-rusher. The decline he was expected to show has been nonexistent. Hall recorded 1.5 sacks against San Francisco Sunday, giving him 10 on the season. Aside from an 11.5-sack season with the Lions in '04, he had never even reached the seven-sack plateau before in his career. Mike Sando of ESPN.com writes , "Hall joins a short list of players to reach double-digit sacks at that age since sacks became an official stat for the 1982 season. The others: Trace Armstrong, Rob Burnett, Richard Dent, Chris Doleman, William Fuller, Kevin Greene, Rickey Jackson, Leslie O'Neal, John Randle, Warren Sapp, Bruce Smith, Michael Strahan, Jason Taylor and Reggie White."

The Rams will undoubtedly need to rebuild their defensive line after this season. Even if Robbins and Hall stay viable for a few more years, depth is an issue moving forward. But in the here and now, St. Louis' front four – which, of course, is also getting a career-year out of young former No. 2 overall pick Chris Long – has been the driving force behind Steve Spagnuolo's overachieving defense.

For more NFL news, rumors and analysis, follow @cbssportsnfl on Twitter and subscribe to our RSS Feed .