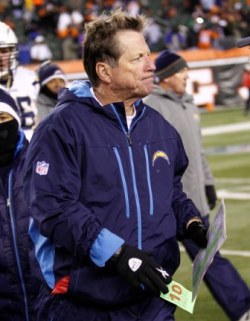 Posted by Josh Katzowitz
For all of us who thought that
Chargers
coach Norv Turner would get the ax this year (especially after the team didn't make the postseason), well, I guess we were wrong.
Team owner Dean Spanos said today that the jobs of Turner and San Diego GM A.J. Smith are safe and sound.
Your explanation, Mr. Spanos?
"I've learned the hard way," Spanos said, according to the
San Diego Union Tribune.
"Your GM and coach have to be two individuals who work together. It's very difficult for some teams; I've been through it. I like the working relationship at this level.
"We're as disappointed as anyone. But I look to 1996 to 2003, when we couldn't even get (beyond) 8-8. We've turned it around, to where we're a good team and a good organization. There's a lot of continuity, but we're still short.
"The easiest thing in the world is to start over. Who the hell do I go hire? Blow the whole thing up? We're a pretty good team but we have to make the right moves. We've fallen. It could have been our draft picks or our free-agent moves. But we have a good core, and I don't care what anybody says. I'm not afraid to make changes. If I thought it was warranted, I would do it. We have a good foundation here."
So, that's that.
Although we could talk about Smith's hard-nosed handling of
Vincent Jackson
or the propensity for Turner's squads to start the season as slow as a tortoise who slips in molasses while on its way to mate with a slug, I suppose there's not much point. For another season, Smith and Turner are safe.
For more NFL news, rumors and analysis, follow @cbssportsnfl on Twitter and subscribe to our RSS Feed .