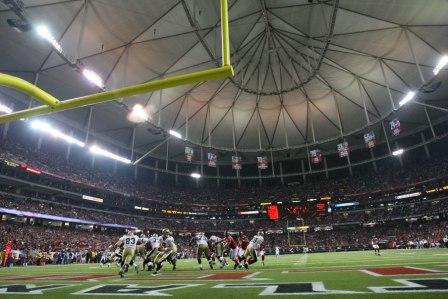 Posted by Josh Katzowitz
ATLANTA – When the
Falcons
are in a sticky scenario, and especially if they're playing in the comforts of the Georgia Dome, the Falcons rely on QB
Matt Ryan
.
And why not? Despite the horrendous Matty Ice nickname, Ryan oftentimes bails out his team with strong late-game play. Yes, Ryan was 19-1 at home before the
Saints
beat Atlanta 17-14 tonight, but Falcons DE
Jamaal Anderson
has come to understand that his team is relying too much on its third-year quarterback.
It's almost not fair to one of the NFL's fringe MVP candidates. They can't expect him to win them games
every
time they need it.
"We just didn't make the plays," Anderson said. "We were looking at Matt late in the game, because he's been there for us so many times. We shouldn't have put him in that position. You have to be accountable on defense. We didn't close out the win again. Even with some of the wins, the defense hasn't closed it out."
Much of the time, the defense hasn't
needed
to seal the win, because Ryan and the offense have been so eager to do it themselves.
This time, after the Saints offense finally took a break from getting whipped by the Falcons defensive front four and scored to take a three-point lead with 3:24 to go, Ryan couldn't make himself that late-game hero. He scrambled for a 20-yard gain on the first play of the drive, but he missed two passes, and Atlanta had to punt.
Ryan instead had to rely on his defense to bail him out this time, but the Falcons couldn't stop Saints RB
Pierre Thomas
.
Now, the mystique of the immortal Falcons fielding an unbeatable team at home has been shattered. Though the 70,000-plus fans in attendance were loud and though the Falcons, assuming they beat the
Panthers
next week in the regular-season finale, will get home-field advantage all the way until the Super Bowl, the Saints proved Atlanta is beatable at home.
Illusions shattered, fans muted and leaving early in frustration, Saints grinning.
"Coach said to give (the Saints) their dues, but we didn't make the plays we needed to make. I don't even want to watch film, because it'll be so terrible," said DE
John Abraham
, who should, nevertheless, watch tape of his interception of
Drew Brees
(because it was pretty awesome).
Look, while Atlanta's postgame locker room was stoic – though not depressing – the Falcons are still in a pretty good spot. Win next week against the Panthers, and they're guaranteed home games through the Jan. 23 NFC championship game. That means no chilly trips to Chicago or no numbing journeys to Philadelphia. That means comfortable temperatures inside with a stadium full of newly-converted Falcons fans.
Plus, it could mean another home game against the Saints. That'd be kind of nice, right
Tyson Clabo
?
"We can have a rubber match," the OT said. "We'll see what happens."
Besides, Ryan is a career 19-2 when playing at home. That's not so terrible, is it?
For more NFL news, rumors and analysis, follow @cbssportsnfl on Twitter and subscribe to our RSS Feed .