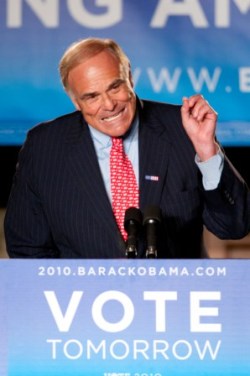 Posted by Josh Katzowitz
It seems to me, now looking back on the decision-making process, that the NFL was in a no-win situation with this week's
Eagles
-Vikings game.
Originally scheduled for 1 p.m. Sunday, flexed to Sunday night and then postponed 48 hours to tonight because of blizzard-like conditions in Philadelphia, the NFL has been blasted for its decision to postpone the game rather than play it in swirling snow and wind gusts that could have reached 45 mph. Yet, if the teams
had
played and the stadium was half-full, you can bet the ticket holders who couldn't get to the game would have been up in arms, as well.
The way the NFL framed the decision – keeping 70,000 fans off the road in what promised to be treacherous conditions – was a smart, sound one. At least in the eyes of the level-headed. And from what I can tell, the Eagles and the
Vikings
have been understanding and civil about the entire schedule-busting snow storm.
But other people apparently are pissed. Like Pennsylvania governor Ed Rendell – who, in his interview with
97.5 The Fanatic,
questioned the country's intestinal fortitude.
"My biggest beef is that this is part of what's happened in this country," Rendell told the Philly radio station. "I think we've become wussies. ... We've become a nation of wusses. The Chinese are kicking our butt in everything. If this was in China, do you think the Chinese would have called off the game? People would have been marching down to the stadium, they would have walked and they would have been doing calculus on the way down."
This comment strikes me as … well … strange. No matter what you think of his politics, Rendell's discounting of the potential safety hazards for tens of thousands of his constituents so a football game goes on as scheduled leads me to question his values. Or, at the very least, his PR skills. What if somebody had died in a car accident on their way to the game? Would Rendell still think that talking smack about the Chinese and their love of calculus and how that related to the American people would be appropriate?
Because while a statement like that could fire up the blue-collar, sports-loving Philadelphia base, I imagine the vast majority of his citizenry a) doesn't care about the game or b) takes offense that the governor cares
that
much about it (of course, Rendell's term is up in 2011, so he's not going to be hurt by his comments unless he plans to run for Congress).
So, back to the above question: are we wusses? Or are we too responsible? Or will politicians always make idiotic statements? Maybe it's all of the above.
For more NFL news, rumors and analysis, follow @cbssportsnfl on Twitter and subscribe to our RSS Feed .