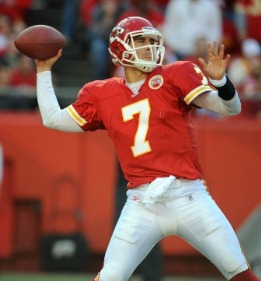 Posted by Josh Katzowitz
Tonight, the NFL will announce which players will get to travel to Hawaii to play the Pro Bowl on the Sunday before the Super Bowl (yes, it's back in Honolulu once again). I'm sure many deserving players will be elected to the rosters by their colleagues, their coaches and their fans. I'm sure some non-deserving players will get to pack their bags, as well.
And I'm sure there will be a number of players who will ask themselves how in the hell they didn't get selected. Earlier today, I asked in a Twitter poll which players were the best candidates that absolutely would get screwed in the voting.
Running as an easy No. 1 was
Chiefs
QB
Matt Cassel
(who garnered 19.2 percent of the vote on all ballots cast). It's easy to remember that Cassel looked pretty awful earlier in the season – it seemed that the Chiefs were winning early games in spite of Cassel and not because of him – but overall, Cassel has had an impressive season (3,001 yards, 27 TDs, 5 INTs) in leading Kansas City to the top of the AFC West.
But yeah, he's not going to make the Pro Bowl ahead of
Tom Brady
,
Peyton Manning
and
Philip Rivers
.
Following Cassel is
Bills
NT
Kyle Williams
, who was named on 11.5 percent of the ballots. Williams has 75 total tackles – second-best among defensive linemen – and he's accumulated 5.5 sacks. On a Bills defense that has very little to brag about, Williams is it. He's just not a well-known name, and he might very well be left off.
Other players who got more than one vote:
Buccaneers
QB
Josh Freeman
,
Saints
DB
Malcolm Jenkins
and
Packers
G
Josh Sitton
.
The teams will be announced tonight, and frankly, the anticipation is killing me.
For more NFL news, rumors and analysis, follow @cbssportsnfl on Twitter and subscribe to our RSS Feed .