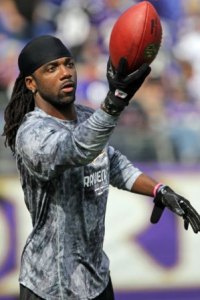 Posted by Josh Katzowitz
This is the time of the year, with the regular season wrapping up Sunday, when we hear the election results. The Pro Football Writers Association gives out its various awards to the league's various teams – Most Valuable Players and otherwise – and players and coaches help determine the Pro Bowl roster.
We also hear the results of each team's winner of the
Ed Block Courage award,
which "honors those National Football League players who exemplify commitments to the principles of sportsmanship and courage."
Generally, players are honored and humbled to win this award, because it comes from their teammates. Such was the case with
Ravens
WR Donte Stallworth – who is Baltimore's recipient for 2010.
You'll recall that Stallworth pleaded guilty to DUI manslaughter after he killed a Miami construction worker while driving following a night out on the town in 2009. Stallworth spent less than a month in jail, and commissioner Roger Goodell suspended him from the NFL all of last season.
But the way Stallworth handled the aftermath was one reason his teammates voted him for the award.
"It really makes me feel good to know that they see the type of person that I am and the type of person that I'm working on to become," Stallworth said during a Tuesday news conference at the Baltimore Sports Legends Museum, via the
Carroll County Times.
From the story:
The consequences of that incident were significant, costing a family man his life. …

Since that low point, Stallworth has tried to make amends, apologizing profusely to the Reyes family and giving them a confidential multi-million dollar settlement and sharing his personal story about how a poor decision can change lives in an instant.

"I'm going to continue to do what I said I was going to do from the very first day, to honor Mr. Reyes by really speaking out about how when you make bad decisions, the things that can happen," Stallworth said. "Anyone that will listen to my story and what I have to say, if it changes one person's life, I feel like I've done enough."
For more NFL news, rumors and analysis, follow @cbssportsnfl on Twitter and subscribe to our RSS Feed .