Posted by Andy Benoit

Lions
center
Dominic Raiola
was fined $15,000 for shout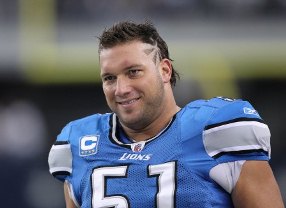 ing an obscene sentence at a
Dolphins
fan while leaving the field this past Sunday. If you don't already know, the first two words in the sentence were "suck" and "my" – in that order. (If you're inclined to see, and hear, the incident, click here.)
Raiola, a 10-year veteran and team captain who admittedly has trouble controlling his fiery emotions at times, said on Wednesday that it was not a good way to conduct himself.
"I got too fired up. I got fined. I've got to move on and make better decisions next time. Do I regret it? I like to say I live my life without regrets."
Raiola also said, according to John Kreger,
CBSSports.com's Lions Rapid Reporter
, that a player's high salaries doesn't mean he should have to endure verbal abuse from fans.
"Let me come to your work and (heckle) you (abusively)," Raiola said. "I don't think anyone should have to put up with (abuse) whether you're on the field or not."
Obviously, we don't know what this particular fan had said to Raiola. But we can all agree that NFL players, and athletes in general, take far more verbal abuse from fans than what they dish out. Does that, in some indirect way, make it part of the job?
For more NFL news, rumors and analysis, follow

@cbssportsnfl

on Twitter and subscribe to our
RSS Feed
.