Posted by Will Brinson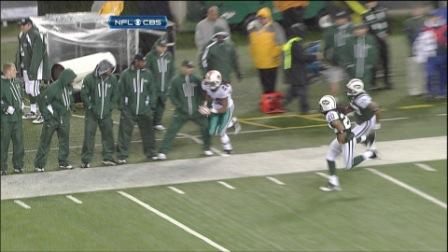 The NFL reached some resolution on
the "TripGate" incident involving Sal Alosi
and members of the team and staff who formed a wall against the
Dolphins
, announcing Thursday night that the
Jets
were fined $100,000 for the incident and calling it "a competitive violation as well as a dangerous tactic."
"The fine has been imposed on the Jets to emphasize that clubs are accountable for the actions of their employees," the NFL said in its statement.
The Jets, who
suspended Alosi for the rest of the season sans pay
and fined him $25,000, also released a statement in which they said they'll "comply with the league's decision."
The NFL also indicated that the the fine was shaped by
Mike Westhoff's decision to imply
that the
Patriots
might engage in similar tactics.
"The discipline imposed on the club also includes the response to the incident of coach Alosi and special teams coordinator Mike Westhoff, who made public comments accusing other teams of employing similar tactics," the NFL's statement said.
Those two aspects of the fine make the 100 grand a fair amount even it's certainly more than the NFL has fined anyone for a helmet-to-helmet hit, and
it's twice the amount
the
Broncos
were fined for taping the
49ers
walkthrough.
That's because Alosi's actions need to halted immediately, and because when a member of one organization calls out another organization, it's not something the league takes lightly, particularly since what Westhoff did could construe libel in normal venue.
More important, though, is making sure that the Jets (and by virtue of the public fine, all other NFL teams) understand they can't risk the health of opponents through cheap tactics designed to find a competitive advantage vis-a-vis an often overlooked rule.
And although the steep nature of the fine might mean Alosi's working for free next year (if he's even working), you can guarantee that the NFL got everyone's attention when they hit the Jets with the amount.
For more NFL news, rumors and analysis, follow

@cbssportsnfl

on Twitter and subscribe to our
RSS Feed
.