Posted by Andy Benoit

Eric Mangini is out after a pair of 5-11 seasons in Cleveland. No surprise there. Even though Mangini was given 5-11 type talent to work with, even though the
Browns
showed marked improvement in a lot of areas (namely defensively) and even though the players seemed to respect the coaching staff (Sunday's embarrassing performance against Pittsburgh not withstanding), it has long been assumed that president Mike Holmgren wants one of his own handpicked running the show.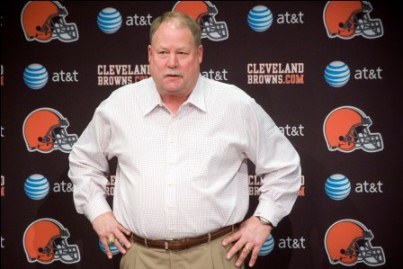 So who will that guy be? If it's not Holmgren himself (the former
Packers
and
Seahawks
head coach has admitted he isn't sure he's 100 percent done with coaching) the name everyone is tossing around is Jon Gruden. The 2002 Super Bowl winner was on Holmgren's staff in Green Bay. A while back, Gruden's son even said the plan is for his dad to
take the San Francisco or Cleveland job in 2012
.
But circumstances seem to have expedited that process by a year. Gruden in Cleveland would make sense. For starters, the Niners are reportedly not interested in his services. Gruden loves his Monday Night gig, but he has made it no secret that it is a temporary position.
What's more, reading between the lines, it seems Gruden has been on Holmgren's radar all along. Why would Holmgren keep Mangini after a 5-11 '09 season but quickly fire him after a 5-11 '10 season in which the Browns, realistically, could not have expect a drastic improvement in their record? The most logical explanation is Holmgren was waiting on the guy he wants. And the guy he wants was waiting for his son to graduate high school before he gets back in. (Again, Gruden would have to give up that wait a year early if he jumps back in.)
It's also possible Holmgren could have his eye on John Fox. It's been known for two years that Fox's contract in Carolina was going to expire at this time.
Jason La Canfora of NFL.com
believes the former
Panthers
head coach could be headed to Ohio (he isn't citing any sources, he's just offering his own well-informed opinion).
Another
name that has surfaced
is
Eagles
offensive coordinator Marty Mornhinweg. Mornhinweg, like Holmgren, is a West Coast offensive guru. He has prior head coaching experience (Detroit 2001-02) and has gained considerable credibility around the NFL over the past few seasons.
For more NFL news, rumors and analysis, follow

@cbssportsnfl

on Twitter and subscribe to our
RSS Feed
.