Posted by Andy Benoit

The drama is laying on pretty thick in Miami. Earlier this week, Dolphins player rep Ricky Williams (who, it's wort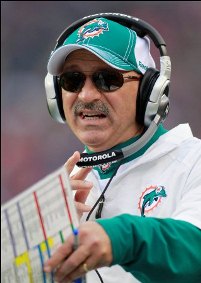 h noting, is headed for unrestricted free agency), criticized head coach Tony Sparano for being a micromanager and taking the fun out of football.

Via ESPN.com's Tim Graham, in a radio with WQAM (the same station where Williams made his comments), Jets defensive end/outside linebacker Jason Taylor, who played for Sparano last season, essentially seconded the running back's sentiments.

"The people want to get on players sometimes of speaking their minds and for saying things or being truthful," Taylor said. "People don't always want to hear that. But sometimes you've got to look at it and say 'Where there's smoke there's probably fire.'

"I think it's something you have to take a step back and look at and say 'Well, this isn't Ricky just being a cancer in the locker room.' ... Sometimes guys talk and you tend [to dismiss] them as just blowing a horn. But when someone like Ricky talks, I think you can understand that maybe there is something there for real."

Taylor was not trashing his former coach – he was merely speaking candidly.

"I played under Tony one year in that system and atmosphere, and it's tough," Taylor said. "What Ricky was saying is true in a lot of senses. It's a tough work environment.

"I think Tony does a good job of trying to touch every situation you may see in a game. But the micromanaging and things like that is exhausting , particularly when you're not winning."

For more NFL news, rumors and analysis, follow @cbssportsnfl on Twitter and subscribe to our RSS Feed.